Back to Articles List
I have a problem with updating.
Problem:
I am having trouble updating my PDF-XChange software.
Cause
In some cases, you may be using a discontinued product, such a PDF-XChange Viewer, which has been succeeded by the PDF-XChange Editor. These are separate products, and you cannot update one to the other, they must be installed separately.
If you are experiencing issues with administrative rights while running the updater, please contact Support@tracker-software.com for assistance.
Resolution:
Follow the below instructions to remove what is installed, and manually update.
Uninstall what is currently installed:

Open the control panel.

Click on Uninstall a program.

Locate everything published by Tracker software products.
Click uninstall and follow the onscreen instructions.


Close the control panel.
Restart your PC.
Log in to Your Account and download the appropriate installers:

Run the installer and follow the on-screen instructions.
When prompted choose a complete installation.

After that, you will be prompted again, choose a PRO installation if you have your license key.

You can recover your license key from your

account page

.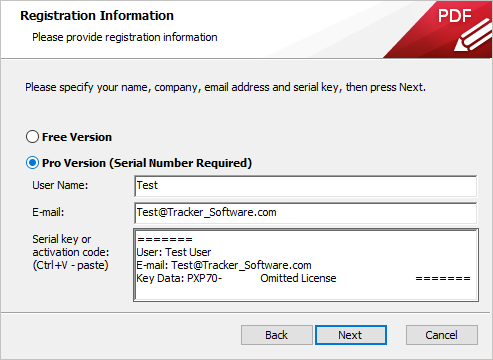 Be sure to use CTRL+V to paste your license key into the installer.
Follow the steps on screen to finish the process.