Back to Articles List
How do I copy a custom Stamps Palette for other users to use?
Question:
How do I copy a custom Stamps Palette for other users to use?
Network users:
Unfortunately, there is currently no way of mapping a networked folder to our stamps palette, thus you must share the same file to each device and user following the below instructions.
Answer:
The first step is to locate the stamp collection on the local computer, which must then be copied into the Stamps folder on the target PC. Each stamp collection in the Stamps Palette is saved to a PDF file at two locations on the local computer. One of these locations is accessible to the current user and the other is accessible to all users. Their location depends on the operating system in use (see below).
The second step is to copy the stamp collection to the same location on the destination PC. Copy it to the current user location in order to make it available to the current user, or to the installation folder to make it available to all users.
Please note that the Stamps folder will not exist on the target PC unless a custom stamp has already been created on it. The name of this folder is case sensitive and must be "Stamps". Information on the creation of custom stamps is available here.
PDF-XChange Editor
The stamps are stored in:
Per user stamps:
%appdata%\Tracker Software\PDFXEditor\3.0\Stamps
All Users stamps:
%ProgramFiles%\Tracker Software\PDF Editor\Stamps
To export stamps:
Stamps can now be exported using the Settings Export feature:
1. Click File > Export Settings.
2. The Export Settings Options dialog box will open: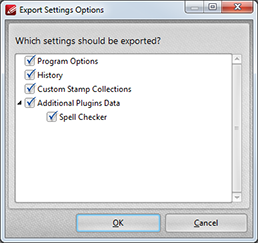 3. Ensure the Custom Stamp Collections box is selected and click OK. The Export Settings to File dialog box will open.
4. Name the file and click Save. It will be exported as an *.xces file.
5. Subsequent users can use the Import Settings option in the Edit tab to import the custom stamp collection.
PDF-XChange Viewer
Location available to all users:
C:\Program Files\Tracker Software\PDF Viewer\Stamps
Location available to current user:
C:\Users\<user name>\AppData\Roaming\Tracker Software\PDF-XChange Viewer\2.0\Stamps
Please note that this location will not exist until the current user creates a new stamp collection and adds a stamp to it.