Back to Articles List
How do I Remove Demo stamps from my Document, and why are they there?
Answer
The PDF-XChange products add watermarks (sometimes called "demo stamps") to documents when a licensed feature is used in evaluation mode. Please ensure that sensitive documents are saved before licensed features are used in evaluation mode as these watermarks cannot be removed.
Cause
When using the free version of the software some features will place watermarks on a document upon Saving/Exporting/Optimizing/Etc.
This will also happen using a regular Editor license if you try to create a Fillable Form or using Dynamic Stamps as these two features are Editor Plus & PDF-XChange PRO exclusive features.
This will also occur even while holding an active license if you are using the EOCR plugin while still in its trial period, and no license covering it's use is present.
Resolution
A license must be purchased and entered through your software in order to resolve this issue. Our product pages are available here.
For instructions for adding a new product key see this article.
**Note: If you have not purchased a license or have not entered it, watermarks will be reapplied to the document every time they are removed until a valid license key is entered.**
Once you have Purchased a valid license:
Open the document in question with PDF-XChange Editor.
Navigate to the Organize tab.

Note: If you are using the classic interface, or an older version, you will find these options in the Document menu instead of the Organize tab.

Click Watermarks and from the dropdown dialog, choose Remove all...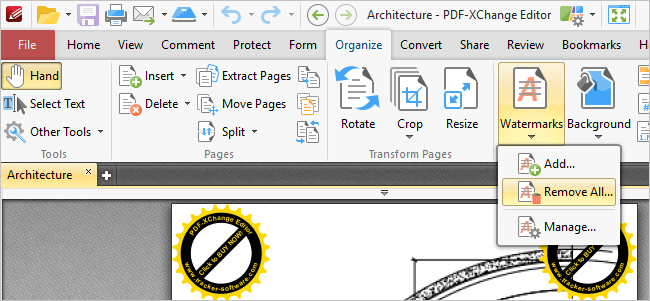 A Dialog will ask if you are sure you wish to remove all watermarks. Click Yes if you are sure.
(Note that this will also remove any custom watermarks you have placed on the document.)
Once this is complete, you will want to open the Links pane, which is available from the bottom left options menu in the Editor display area.

Then in the Search Bar, type "tracker-software.com" to ensure that only our links appear, click the first link, and the scroll to the bottom and Shift+Click

Finally, press the Delete key on your keyboard to remove these links from the document.
The Document is now cleared of our Demo stamps. In the future, to avoid placing these, ensure that you are only using features which are covered by your license. If you need to purchase a license upgrade to use a new function, please do so from your account page.