How do I enter my PDF-XChange Viewer PRO serial number
Knowledge Base Article:

KB257

Created On:

Apr 8, 2010 12:07 PM

Last Modified:

: Apr 1, 2014 01:05 PM

19333 visit(s)
Why am I still getting watermarks/demo stamps on PDF files I modify.

Your serial number has either been entered incorrectly, or you don't own a current license for the PDF-XChange Viewer 'PRO' (version 1/2//2.5) - PDF-Tools or PDF-XChange PRO Version 4/5 products.

Also note that files modified and saved with a free or Trial version, using the features reserved for the 'PRO' version, rather than those features provided in the free version available to all (e.g. those highlighted by 'PRO' in the menu when using the FREE version), cannot be modified later and have the 'Trial' watermarks removed - a new file must be created from the original material free of these trial watermarks.
Assuming you do own a valid license, either re-install and copy/paste the serial number into the installer when requested - using the correct installer for the product purchased - or :

Please open the PDF-XChange Viewer - from the Menu at the top select: Edit > Preferences.
02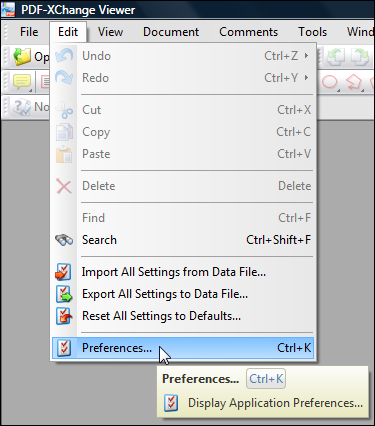 In the Preferences Dialog, click Registration from the list of categories on the left.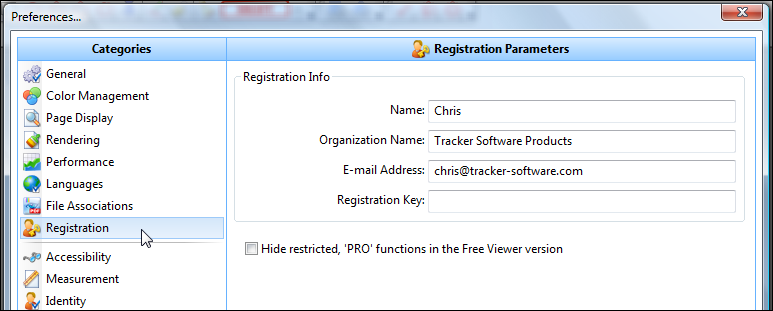 Copy & paste your serial key (Registration Key), into the 'Registration key' Box provided.
Click Apply and OK.
Note: Sometimes [CTRL]+[C] or right-click and copy will insert an extra space at the end of your copied text, entering a valid serial in the Viewer will result in the serial key turning Blue. If it is still Red after you paste it in, move the cursor to the very beginning, or very end, and remove any spaces before, or after the key and ensure that you have pasted in all 6 groups of 5 characters that make up the key.