Back to Articles List
I have a problem with File Associations and making PDF-XChange Editor/Viewer the default PDF Viewer
Symptoms
PDF-XChange Will not set as the default PDF Viewer/Editor in Windows or it has been reset to something else.
Cause
This is sometimes caused by installing updates to Windows, or installing other Software or Hardware which may come supplied with another PDF application. Despite your setting PDF-XChange as the default PDF Viewer (and even doing so via the Menu option File -> Preferences -> File Associations), Windows persists in using another Viewer/Reader as the default application for PDF files.
Setting the default in Windows 10
In Windows 10 Microsoft implemented a new menu and in some cases it will reset PDF defaults back to its new Microsoft Edge browser, and then prevent other applications from setting themselves as the default again. To rectify this, follow the steps below.
1. Open the start menu and search for Default app Settings:

2. In the window that appears, scroll down and click on Choose default apps by file type: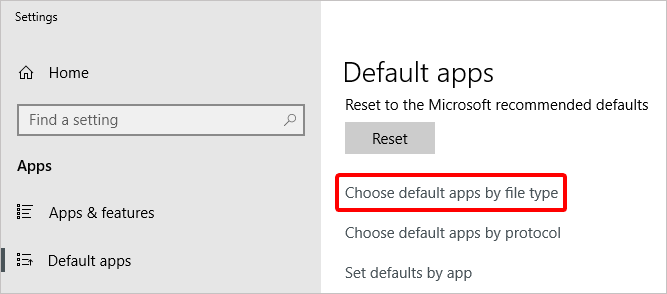 3. Following that, Scroll down in the list that appears until you find the .PDF option: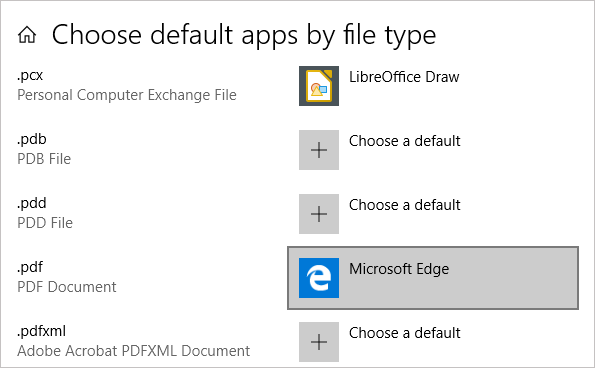 4. The Default is most likely Microsoft Edge, but it may be unset, simply click on this and change it to PDF-XChange Editor (or your desired PDF viewing application):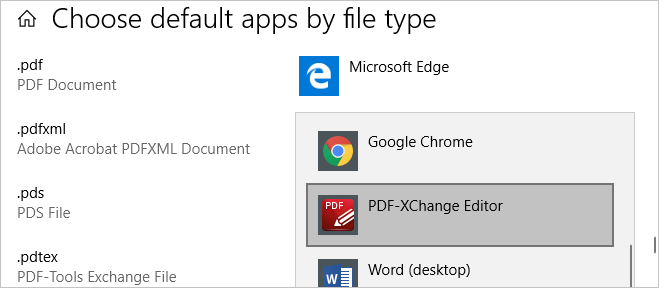 5. Close these windows and restart the PDF-XChange Editor (restarting your PC may also be necessary in some cases).
If you also need to set web associations, please follow the steps below.
Web associations and Previous versions of Windows
Open a command Prompt with Administrative privileges
- If you are using WIndows XP - click Start -> Run, then type "cmd" and press Enter
- If you are using Vista or Windows 7 click the Start button and type "cmd"
- If you are using windows 8 or Higher, press the windows key on the keyboard, and search for cmd.
- Right click the cmd.exe result that is shown and select "Run as Administrator"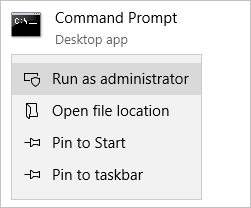 Navigate to the PDF-XChange install folder (by default this should be as below, unless you selected to change the installer defaults). This is the folder that contains the executable PDFXEdit.exe. Type:
cd "%ProgramFiles%\Tracker Software\PDF Editor" including the quotation marks, then press Enter.

Run this command: PDFXEdit.exe /makeassoc:web=true and press Enter again.
**Note: this will not print out a response if it succeded, it will only print text if the attempt failed.
This should set the file associations in Windows as well as your web browsers.

**Note: you must have Administrative rights for this to correctly function!