Back to Articles List
Why can't I use the Select Text Tool to copy text from a PDF document?
Question
Why can't I use the Select Text Tool to copy text from a PDF document?
Answer
Please note that text can appear in several formats in PDF documents. If text is image-based then the Select Text Tool cannot be used to copy it in the same manner as it can for standard text. Text that comes from scanners, for example, is image-based, and often cannot be copied in this manner. Additionally, text that is created as curves from web pages may not be selectable (Chrome and Opera both do this during printing).
Another possibility is that the document author added security restrictions that prohibit the copying of text.
Image-Based Text
Optical Character Recognition can be used to convert image-based text into selectable text, which can then be copied. Follow the steps below to OCR documents in PDF-XChange Editor:
1. Click Convert in the Ribbon Toolbar.
2. Click OCR Pages. The OCR Pages dialog box will open: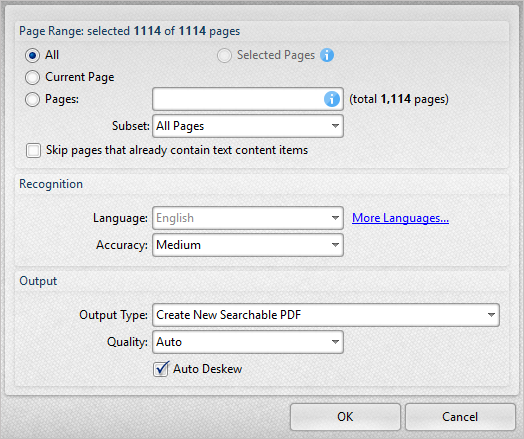 Please note:
The Recognition options determine the language and accuracy of the OCR process. Increasing the accuracy increases the time that the process takes and vice versa. Additionally, it should be noted that setting the accuracy to high may result in unusual output if the document on which the operation is carried out features imperfections. This is because the software will search to a greater depth and may attempt to recognise imperfections as text.
The Output options determine the format of the output information from the OCR process.
The Quality setting determines the resolution of the new PDF document in dpi (dots per inch).
Select Auto Deskew to deskew documents automatically. (Deskewing is a useful feature that straightens images that have been photographed or scanned crookedly).
3. Set the parameters as desired and click OK to OCR the document.
Alternatively, preferences can be set up to OCR documents immediately after they are scanned. See here for further informaion.
Security Restrictions
Follow the steps below to view security restrictions:
1. Open the document in PDF-XChange Viewer/PDF-XChange Editor.
2. Click File in the Toolbar.
3. Click Document Properties.
4. Click Security in the Categories section.
Document Permissions Details are displayed on the right side of the dialog box: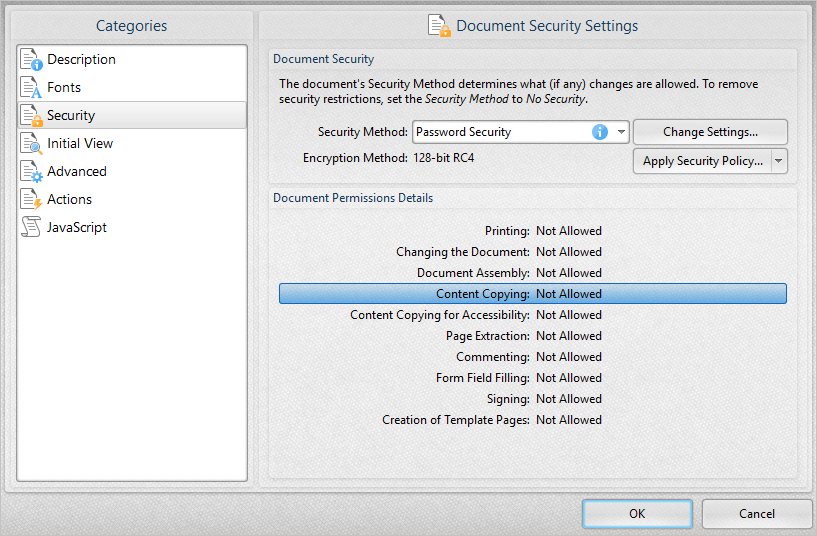 If the security restrictions prevent the copying of text then it is not possible to copy text unless you can access and change the security settings. Use the Security Method dropdown menu, detailed in the image above, to access/change security settings.
Further information about password security options is available here.