How do I use Orca and mst to deploy your products
Knowledge Base Article:

KB317

Created On:

May 18, 2011 05:31 AM

Last Modified:

: Jul 1, 2014 12:26 PM

10957 visit(s)
" We want to roll out your products using the MSI and an accompanying MST.
We have installed Orca and opened up the MSI and then got very lost trying to find which fields I should edit to input the licenses key and user details, can anyone point me in the right direction?"

You will need to add a row to the Property table in the .msi file, then save the changes in the transformation file (.mst).
Start Orca
Open the MSI file you wish to modify.
Start a new transform using

Transform --> New Transform
Select the Property table from the list of tables on the left.
Right click in the right hand panel and select "Add Row" (CTRL+R)
Once you have made your changes select Transform --> Generate Transform...
Save the transform for use when deploying.
In order to pass your license information, make sure to add a row with a property value " KEYDATA" or "KEYFILE". The value of KEYDATA is the string that is your serial key, the vlaue of KEYFILE is a valid UNC path to your xcvault file.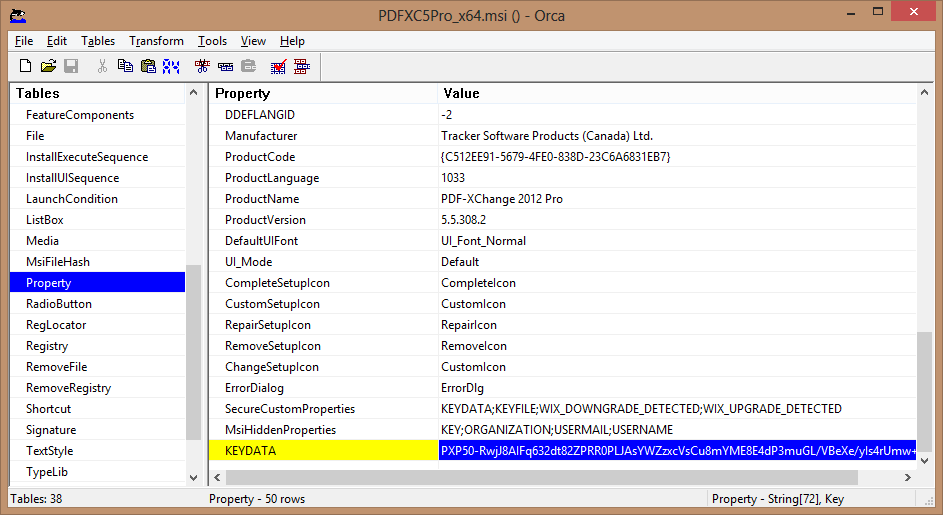 If you only want to install some of the components, make sure to include an ADDLOCAL row with a value then a coma-separated list of components you want installed. The full list of components you can include in ADDLOCAL, as well as a full list of other parameters that you can add to the property table, are available here:
Editor: http://help.tracker-software.com/EUM/default.aspx?pageid=PDFXEdit3:switches_for_msi_installers
Standard: http://help.tracker-software.com/EUM/default.aspx?pageid=PDFXSTD5:msi_installer_switches
Pro Bundle: http://help.tracker-software.com/EUM/default.aspx?pageid=msi_installation_switches_pro5
Options can be also seen when you launch the .msi file in a GUI and click the help button. Additionally you can find the same list attached to this forum topic.