Back to Articles List
How do I use JavaScript in PDF-XChange Editor?
Question:
How do I use JavaScript in PDF-XChange Editor?
Answer:
The JavaScript Console can be used to add JavaScript to documents in PDF-XChange Editor. JavaScript is a high-level programming language that can be used to perform a range of operations. See here for an index of existing JavaScript operations that PDF-XChange Editor supports and additional information about JavaScript. Follow the steps below to open and utilize the JavaScript Console:
1. On the Form tab, click JavaScript Console (or press Ctrl+J):

The JavaScript Console will open: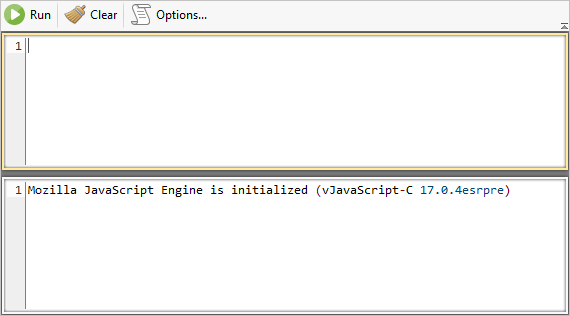 2. Enter the desired JavaScript into the console.
3. Click Run (or press Ctrl+Enter) to run JavaScript. Please note:
- Errors in JavaScript will be displayed in the lower window.
- Click Clear to remove error messages from the lower window.
- Click JS Options to customize JavaScript options. Available options are detailed here.
Create a JavaScript Link
Follow the steps below to create a link that activates JavaScript:
1. On the Home tab, click Create Link.

2. Click and drag the pointer to determine the size and location of the link.
The Browse for Link Target dialog box will open:

3. Click Advanced.
The Edit Action List dialog box will open and the Add dropdown menu will be expanded: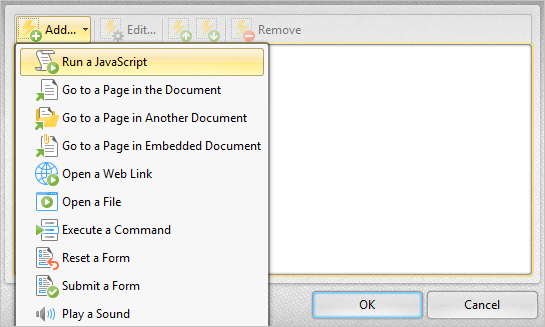 4. Click Run a JavaScript. The Add Action: "Run a JavaScript" dialog box will open.
5. Enter the desired JavaScript and click OK to create the JavaScript link.