Back to Articles List
How do I use PDF-XChange Editor to edit documents?
Question:
How do I use PDF-XChange Editor to edit PDF documents?
Answer:
There are multiple facets which allow modifications to PDF documents. This article details how to edit the base content of unrestricted PDF documents such as text and images. For details and instructions on modifying comments and annotations please see here.
Editing Page Content Objects
Activate the Edit Content tool from the Home tab, or from Tools> Edit Content Tools> Edit Content in previous versions or when operating in classic interface.

Tip: Restrict editing to certain object types by clicking on the bottom portion of the Edit Content Tool: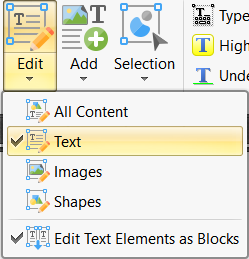 Click once on an object to activate the object controls. Hold Ctrl while clicking to select multiple objects:

Use the yellow handles to move and resize the object. The circle in the center can also be used to move the object. Use the green detached handle to rotate the object. Hold Shift while rotating to constrain to 15° increments. Additional alignment and positioning options are accessible in the contextual Arrange tab:

Note: Some options may only become accessible when multiple objects are selected.
Resizing base content text
There are two methods to resize base content text individually (base content requires use of the "Edit" tool to be selected).
1. Resize and scale - This method will result in the text content within being "stretched/scaled" to the new object size. To do this, simply select the text object (single click), and then click and drag on the handles to begin scaling the content. See gif example below: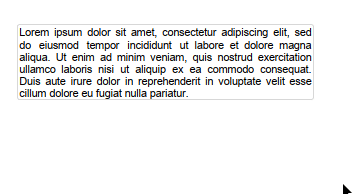 2. Resize content, without scaling - This method will not change the text size in any capacity, only the size of the container. This is useful for cases where one of your paragraphs is thinner or wider than the others, and you need to fix that while maintaining a consistent font size and word wrapping. To do this select the text for direct editing (double click) beforehand. Then click and drag the handles to begin resizing the container alone. See gif example below:
Editing Text Content
With the Edit Content tool active, double click a text block to activate the text controls. The contextual Format tab will show the Text Editing Tools such as font style and positioning:

Tip: In order for changes to take place on existing text you must first select the text to be modified.
Editing Images
PDF-XChange Editor does not support native image editing capabilities. Instead, it uses your system default for image editing, then updates the image on the PDF once the modifications have been saved. To edit an image within a PDF document, activate the Edit Content tool as detailed above, then right click the image in question, and choose from one of the following options:

Default Application Uses your system default.
Open with... Launches a windows dialog for program selection.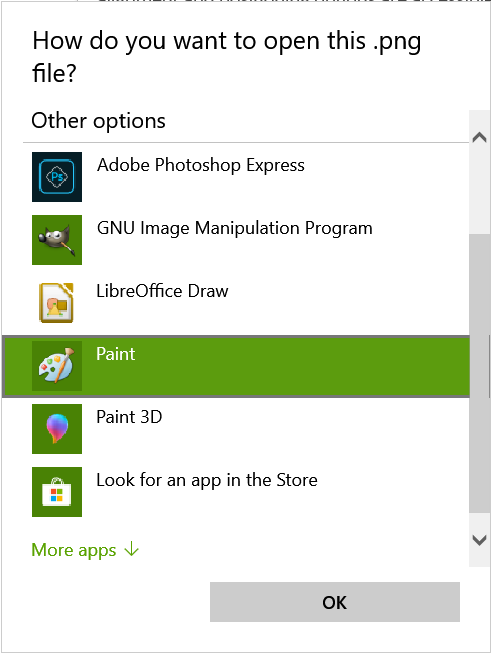 Ignore Transforms when Editing Image By choosing this options, the image will be edited as it was added into the PDF. This means that all rotations, transforms , scales applied to the image and page will be ignored.
Once you have made the changes to the image, simply save it and the Image in the PDF should automatically update.
There are multiple ways in which PDF-XChange Editor can be used to edit PDF documents. See below for additional details.
The Add Text Tool is used to add text to PDF documents. It is detailed here.

The Comment and Markup Tools are used to mark up, comment on and annotate documents. There are several comment formats available, as well as multiple options for updating document text, such as highlighting, striking out and underlining text. There are seven shape annotation tools that can be used to annotate documents, as well as options for attaching files, and a Stamp Tool that can be used to add stamps to documents. The Comment And Markup Tools are detailed here.
The Edit Comments Tool is used to select/edit comments, annotations and markups that have been added to documents. It is detailed here.
The Edit Content Tool is used to select/edit the base content of PDF documents. It is detailed here.
The Form Toolbar contains options for adding/editing forms to documents, such as text fields, check boxes, radio buttons, list boxes, dropdown menus, buttons, digital signature fields and barcodes. It is detailed here.
The Measuring Tools are used measure specific document dimensions, such as the distance between two points or the area of a specified section of the document. They are detailed here.
The Zoom Tools are used to enhance the process of editing documents. They are detailed here.
There is a huge range of additional tools and functionality available for editing documents in PDF-XChange Editor. They are detailed in the Edit Documents section of the manual, which is located here.