Back to Articles List
How do I Use the Editor Language Tools Properly
Question
How do I create or modify translations of Tracker Software's end user products?
Tracker Software relies on volunteers to translate their products. See here for available languages. If the language is not available, or is out of date, you can update or create it by following the instructions below.
*Before proceeding, we recommend that you email us to confirm that your intended language option is not already converted, in progress or, for whatever reason, cannot be supported.
How to help
If you wish to assist us in providing new language file options, or maintaining/extending incomplete files, we would welcome your assistance. Please download the Combined Language Localization Tool here. Old versions of the Localization Tool can be found here.
As of version 7, the Localization Tools for our products have been combined. Each language is composed of at least 28 modules (At time of writing, more may be added in the future). All modules must be 100% translated in order to qualify for a free license. The percentage at which a module is translated is shown at the top of the window while editing.
For new translations open the PDFlocalizer.exe and go to File > New and select the module to begin working on, then click OK. All the current translations for every language is included with each download of the localizer tool. If your language exists already and needs updating, we recommend modifying the existing modules located in the Languages Folder included with the Localizer.

Define the language you are translating to in the Language Info category, and fill the fields appropriately: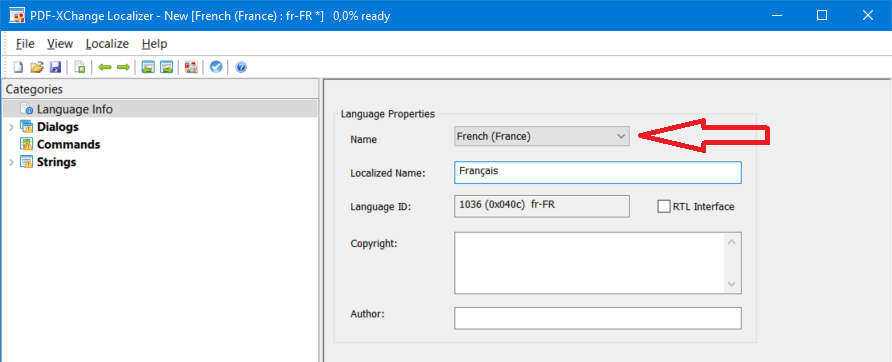 Sections of the module containing untranslated strings display as bold in the categories tree. The untranslated strings themselves are shown in red.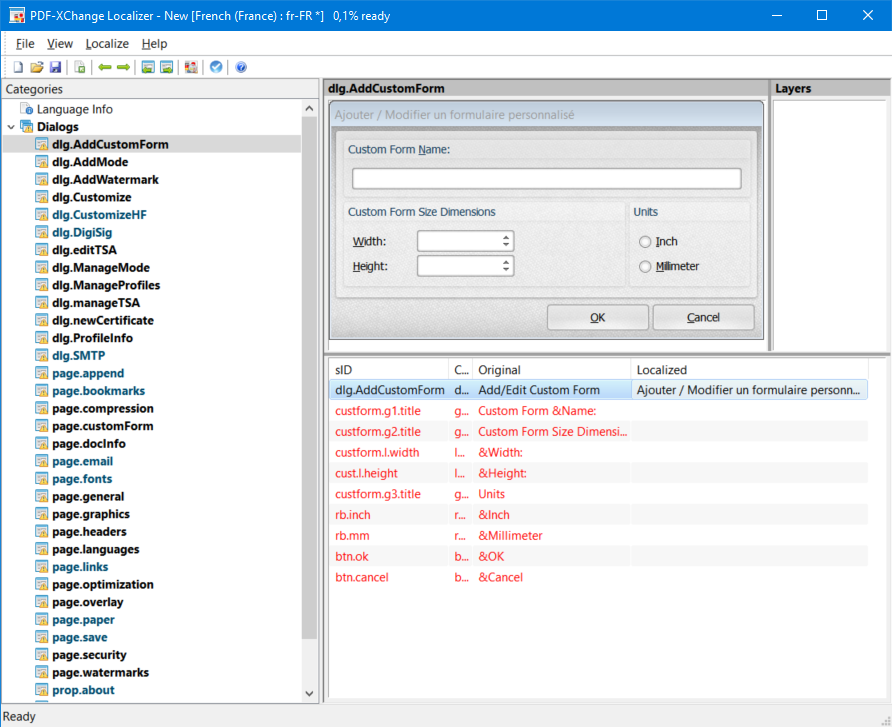 Translate the strings as they are shown, and take care not to alter the intended meaning. You may notice that there are additional characters within the original string as shown in the above image. "&Width" would translate to "&Largeur". It is important to include any such variables. The ampersand (&) represents a hotkey that will be used to toggle an action or setting associated with the letter following the ampersand. The hotkey is accessed by holding Alt and the defined letter. With the above example, Alt+L would switch focus to the localized "Largeur" field.
There are also variable indicators that you will encounter as shown below: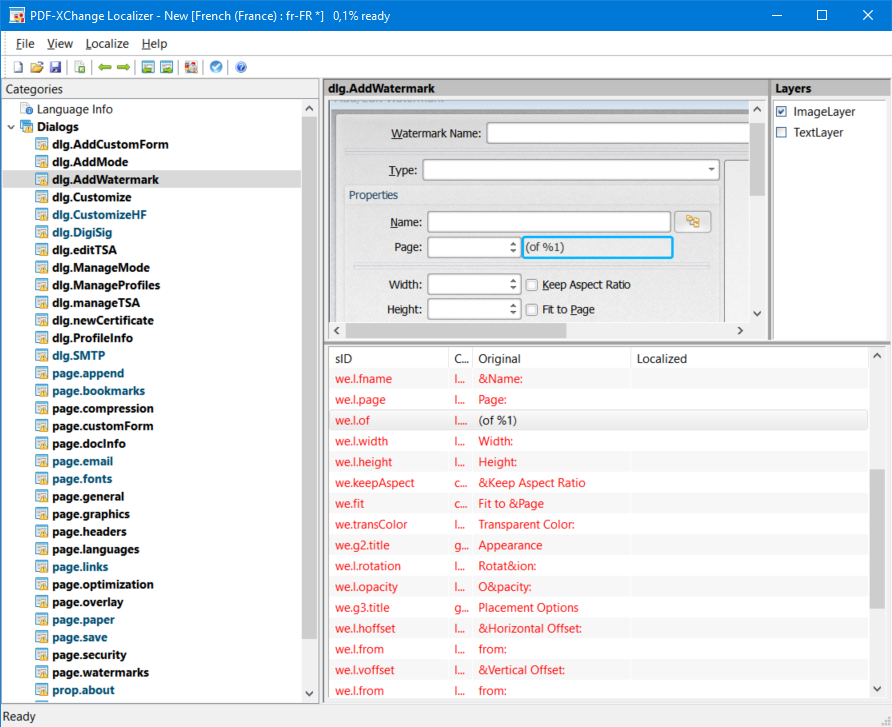 The selected string is shown in the preview of the localizer. As you can see, this variable "%1" would be replaced by a page number. A string may contain multiple variable indicators. They should always be defined by a percent sign, followed by a number. It is best to include them where grammatically appropriate.
If you are ever unsure what a sting means, or how it's intended to work, please do not hesitate to contact us. Completed translations and inquiries can be sent to support@tracker-software.com