Back to Articles List
How do I Determine what version I should install/how can I retrieve my serial key?
Symptoms
I am trying to install on a computer. I have previously purchased a license, but still get watermarks.
Cause
What has likely happened, is you have installed a more recent version than your serial key allows, or, you have not used the appropriate key for your product.
Note: You should uninstall from your old computer before proceeding if you are moving from an old PC to a new one.
Resolution
Making sure you get the right product
The first step is to determine what product your licenses covers, as well as the license key itself.
In this article, we will assume that you have no access to the information on your old computer. However, if you do, the simplest way to ensure you get the same version you were using onto your new computer is to go to: Help > About
Logging in to your account
https://www.tracker-software.com/login
If you have previously created an account and successfully logged into it, and remember the account details, Log into your account and skip to Exploring your serial key section in this article.
Help With log in: When you first purchased the product, not including from resellers, or purchases before 2010, an account will have been created automatically in our system. Your user name will be the email address that you set during initial account creation, unless you have manually changed this later on.
Please fill in your email address. Once you have done so, click "Restore Password".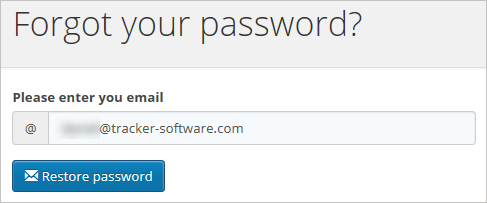 The above window will open asking for your email. Be sure to enter a current email address that you have access to.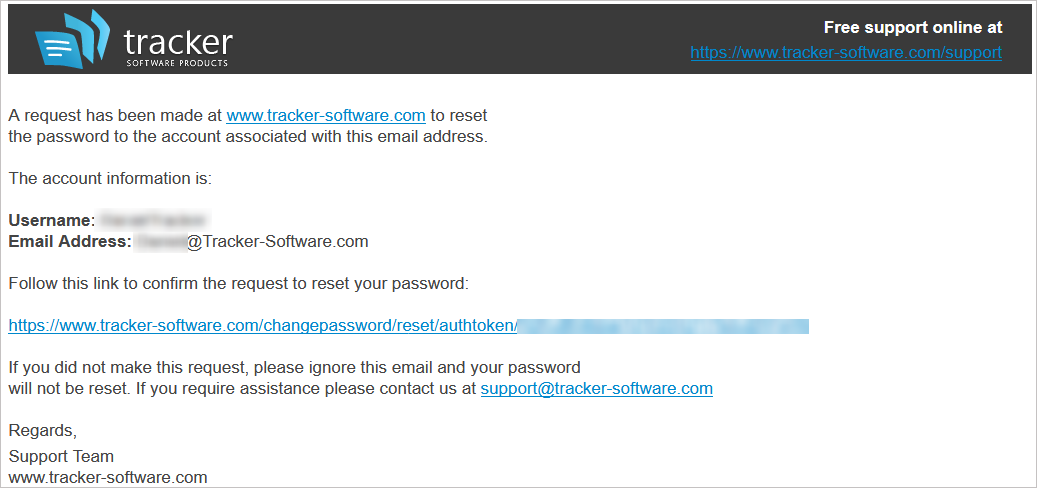 An email will be sent to you with a link to re-set your password. It will contain a link to this page, It will now give you a rough idea of your password strength, we recommend (but do not require) a Capital, and lower case letter, a symbol, and number to ensure password security.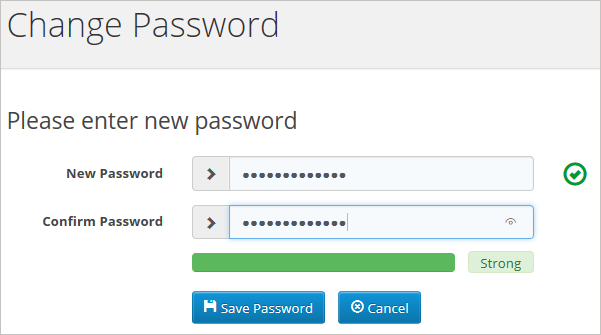 Once you have filled the above fields, you will be redirected to the log-in page. Use the same email address as before and your new password.
If you experience problems with logging in to your account after executing the steps described above, please send an email to support@tracker-software.com with any or all potentially pertinent information (E.G. serial key, name, any/all potential email [if email inactive please specify as such], address, company, order number, or any other information to help us to Identify you).
Exploring your serial key
After successful log in, you will see a Welcome page with all your Active and Expired serial keys. Blocked keys can be shown with the red button on the left side of the page, but are usually unneeded.
If the key state is active, and you have active maintenance, downloading the current latest version will be free.
If the key state is expired, you will notice a renewal discount and may wish to upgrade to the latest version however, you can still use this key in the prior version with which it is still valid, to do this, simply click on its relative Download button.
If you are using an old serial, valid only for a previous version, and do not want to upgrade to the latest, you will need to acquaint yourself with a few Items.
Maintenance expiry date. Found in your account under additional information. You can install most versions released before that date (specifically, any version which uses our new style serial keys, as described later in this article).

Maintenance Explained . Note that you may have an old style serial key that does not work in newer versions of our product. In this case you will need to upgrade or renew maintenance on your license in order to use the latest versions.
For example, below is an Editor key, with maintenance until Nov 30 2016. Meaning we could use the Editor in the latest version available at that date. If your key is in the old style, and consists of 5 sets of alpha-numerics, you will need to make a purcahse in order to use any build of the editor past version 5.5 build 316.1.
Your serial Key and what product it can be used for: In your account, you will see the product name, build number and serial key:

Given the screenshot, one could use this key for version 7.0.326.0 or older.
Downloading the appropriate version: Simply click on the large green download button that you can see in your account page beside the license key in question to download the correct version of the product for that license key. This works for Active and Expired keys, note that Blocked keys, as one might expect, are blocked from use in any current and future installations, as they have been consumed to generate a new key, thus you cannot use them in any version of the software at all.
For more information, or if you have any questions, please email support@tracker-software.com