Back to Articles List
How do I Use fullscreen in the Editor
Question
How do I use the full screen mode?
Using Full Screen
Basic Usage
Enter Fullscreen by pressing F11
Navigating the document is easy. Users can make use of the mouse wheel, keyboards, and Left click/Right click. Left click goes one page further into the document, right click goes back one page.
Leave full screen mode by pressing Esc or F11
Changing Preferences
When not in full screen mode, you can adjust the settings on the File tab, by clicking Preferences (Ctrl+K), and navigating to the Full Screen category.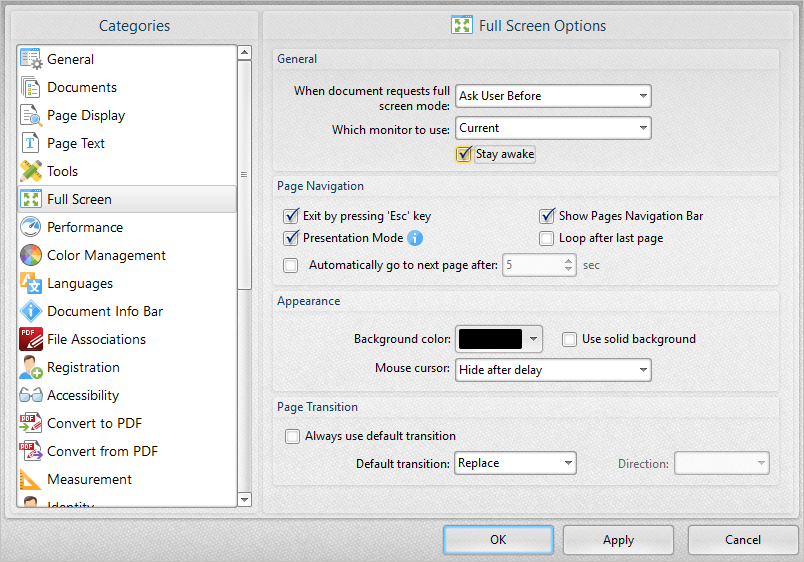 General
When document request full screen mode: The option to allow, Deny, or Ask User Before are provided. These come into effect when a document has a script that automatically wants to open in full screen.
Which monitor to use: In instances where more than one monitor is being used with a given computer, you may choose to always have full screen on any particular screen. Current, Tallest, Widest, biggest and primary are automatically pulled from the system's current information.
Stay awake: When this option is ticked, the screensaver will not activate and the computer will not go to sleep/hibernate.
Page Navigation
Exit by pressing 'Esc' Specifies if pressing Esc key leaves full screen mode to return to regular desktop mode.
Presentation Mode:


Show pages Navigation Bar: This helps to navigate the document from buttons on the bottom corner.

Loop After last page: When navigating thought the pages of the document, the editor will revert to the first page when this option is selected and the last pages is passed.
Automatically go to next page after___: This is for passive presentation. The Editor automatically goes to the next page after the time specified.
Appearance
Background color: When "use solid background" is specified, you can choose the color that is used for the background in full screen mode.
Mouse Cursor: You can set to have the mouse disappear after 5 seconds (Hide after delay), never disappear (always visible), or never appear(always hidden)
Page Transition
Changing the default transitions defines the way the document shows navigation from one page to the next.