Back to Articles List
How do I edit document text after OCR has been performed?
Symptoms
I cannot edit the text after I have performed OCR on a document.
Cause
V8 and up
With the release of Version 8 of the PDF-XChange product line, we have included a new OCR Plugin which is able to perform this process for you automatically. This plugin requires its own additional license coverage, which must be bundled with your existing PDF-XChange Editor, Plus, Tools, and PRO license. If you hold a V7 license that has yet to expire (note that V6 licenses are not eligible for this promotion), you are entitled to use the new EOCR plugin for free until they day your maintenance expires, or you purchase a license upgrade.
V7 and prior
Please note that in version 7 and prior, the purpose of the OCR feature in PDF-XChange Editor was to make the text of scanned/image-based input documents searchable and selectable. When OCR is performed, PDF-XChange Editor identifies text-based content in input documents, then creates an invisible text layer over the original. This has the effect of converting image-based content into searchable/selectable text, but not Editable text.
Resolution
V8
In V8, if your license covers the new OCR plugin, this will be enabled by default and noted in the title of the OCR dialog, you will simply need to select the Editable Text and images, or the Fine page content options and then click OK: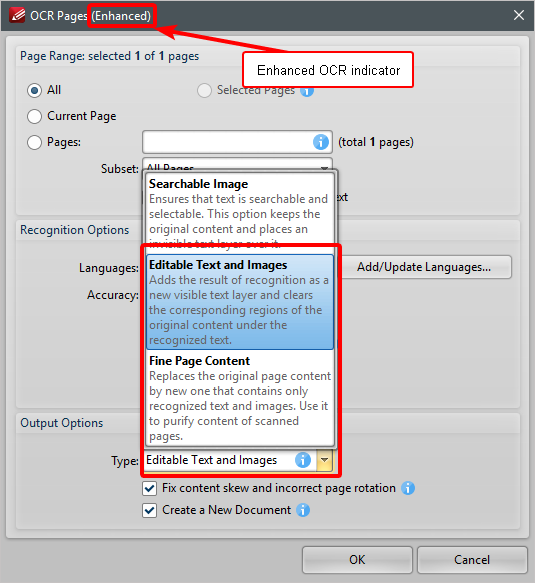 Once you have performed the OCR, you can begin Editing the text in the document as normal.
If the (enhanced) indicator is not present, you do not have the OCR plugin enabled. To enable this, you will need to ensure that:
1. Your license covers the OCR plugin If it does not, the option in step 2 will not appear.
2. The OCR options under preferences in the Editor and Tools are indeed set to "Enhanced"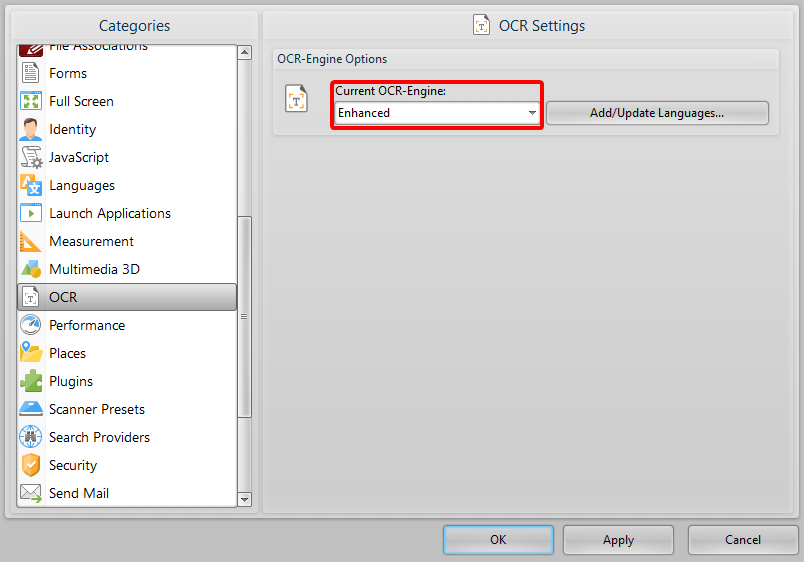 3. Restart the Editor so that this change can take effect.