Back to Articles List
I have a problem with Adminstrative rights in the Tracker Updater/installer
Symptoms
When I run the Tracker Updater, or the installer for one of the PDF-XChange family of products, I receive an error message similar to this one: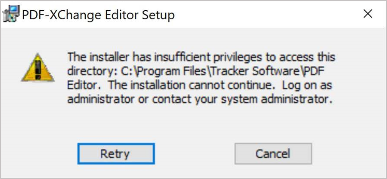 This happens even when I initiate the installation from an administrative account that has full privileges.
Cause
The cause of this issue can also be the Brother Control Center 4 background utility. The Tracker Software Products and Brother Solutions support teams are working together to understand and resolve this problem, and we have not yet been able to identify the cause with absolute certainty. If you have encountered this problem then we would greatly appreciate it if you could contact us and arrange a remote session with our development team. We would like to provide a clear-cut cause and resolution for our users, but we are currently unable to do so as we do not have enough data. The resolution detailed below is a temporary workaround.
Resolution
1. Close all Tracker Software installer/updater windows.
2. Right-click the CC4 utility in the taskbar, then click Close: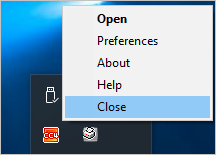 3. Retry the update/installation, which should then complete.