Back to Articles List
I have a problem with large file size when printing to PDF from the PDF-XChange Editor
Disclaimer
It is never a good idea to print a PDF to PDF as it usually creates more problems than it resolves. Use it only as an absolute last resort and when all other avenuses have failed.
It is always a better option to save your PDF rather than reprint it. If you need to reduce the size on your files this KB should help you avoid printing PDF to PDF.
Tracker Software, and its support team, may be unable to assist resolving issues when printing PDF to PDF. If you have any other questions about this process, or are unsure if it is the correct method for you, please contact Support@tracker-software.com before you attempt the below steps.
Symptoms
I have a small PDF file, and when I print it to PDF from the PDF-XChange Editor the size increases drastically.
Cause
Printing from the PDF-XChange Editor is intended for physical printers and in order to ensure the printed result is as close to the original as possible, the PDF-XChange Editor will, by default, convert all text into vector objects. We call this "text as curves". While this ensures that the document is printed as close to the original as possible, it can dramatically increase the file size both on the print spooler and if the file is being captured and saved by a "virtual printer". Printing to file via a virtual printer can make it difficult to edit the document by removing the font details, and can increase the file size considerably.
Resolution
From within the PDF-XChange Editor.
1. Open the document you wish to print.
2. Open the print dialog (Ctrl+P) and click More...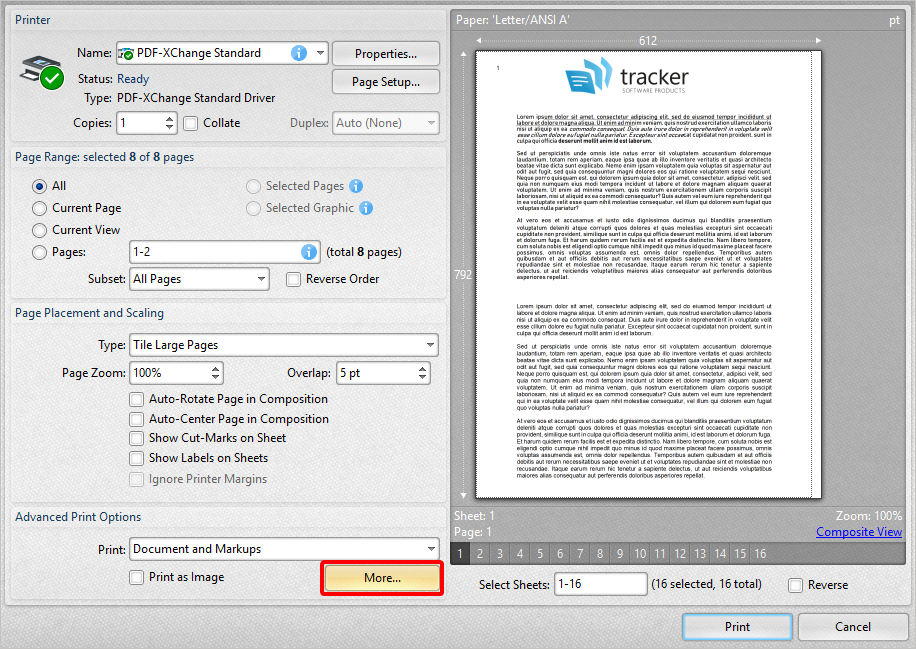 3. Use the Text Rendering Mode dropdown to select Auto.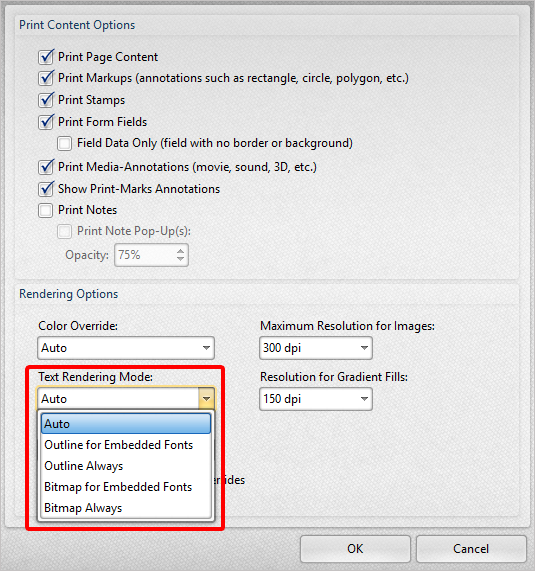 4. Click OK and then click Print.
**Note that a small handful of printers cannot properly interpret font data when this option is set, as such, If you run into any issues printing to physical printers after changing this setting, simply revert it to Outline for Embedded fonts.