Back to Articles List
How do I upgrade my existing product to a different product or a more recent version?
Problem:
I have already paid for product license, but I would like to purchase a different product/upgrade to a more recent version. Do I qualify for a discount?
Resolution:
If you can access your user account, simply sign in there, and you will see all upgrade options for your account listed under the "upgrade options" header on your account page: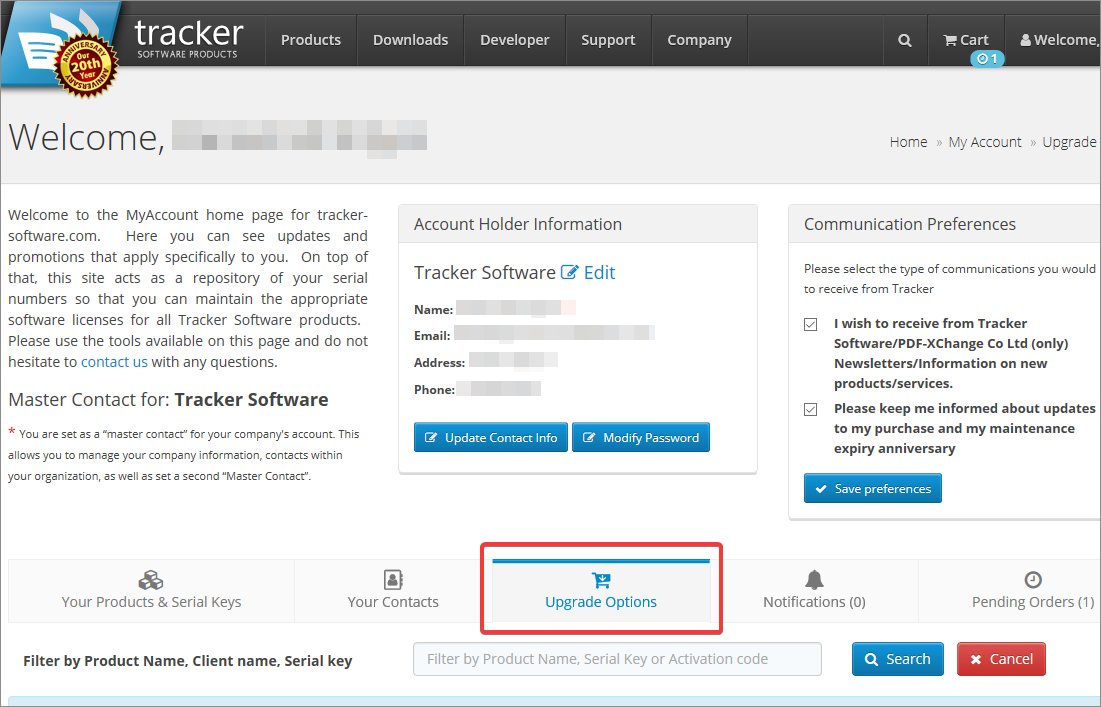 In the menu below this, you will see a number of upgrade options, listed first will be the license type and volume you can go to, then below it will be what license this upgrade option comes from:

If the upgrade option you are looking for is not available, such as when upgrading from a single user license to a 100 user pack, or when consolidating multiple separate licenses into a volume pack, you will need to speak with a sales associate for assistance, please email Sales@tracker-software.com with your current license key(s) with details on the license type and volume you wish to upgrade to.
If you have not created an account yet (due to purchasing through a reseller or holding a Version 3/4 license key), and would like to upgrade your product please register your information here in order to access upgrade discount options.
If you have already registered but cannot recall your login name/password then use the link here to retrieve your details.
If you want to upgrade from an earlier version then click here to contact our sales department. Please provide as much case-specific information as possible. Include your receipt, serial number, email address at the time of purchase, full name and contact details, the product you purchased and any other relevant information. Doing so will allow us to trace your purchase, verify your entitlements and assist you as quickly as we can.