Back to Articles List
Adobe stops support of Adobe Flash Player, 31st December 2020

All users of the PDF-XChange family of products should be aware that on 31st December 2020 Adobe stopped support of the Adobe Flash Player, and from 12th January 2021 Adobe will block Flash content from running in Flash Player. These actions have been taken in order to help the security of their users' systems, and Adobe have strongly recommended that all users immediately uninstall Flash Player to help protect their systems.
Further information about Adobe's decision to take this action is available here.
Please note:
All major browsers will disable Adobe Flash Player from running on 31st December 2020. Major browser support for Adobe Flash Player will vary by browser company.
Please use the following links for further information on the plans for Google Chrome, Microsoft Internet Edge and Internet Explorer, Mozilla Firefox and Apple Safari in relation to this issue.
Users who need assistance transitioning their Flash Player to other supported technologies, or require Flash Player licensing support after 31st December, should contact the official enterprise distributor for Flash Player (HARMAN) as detailed here.
Enterprise administrators have the option to enable domain-level allow list support via Flash Player configuration files in the latest versions of Flash Player on browsers that have not disabled Flash Player. Administrators can use this option to specify the domains in which Flash playback is permitted. Further information about this is available in the 'Enterprise Enablement' section detailed here.
Adobe have recommended that all users uninstall the Flash Player.
Further information about the above, and other related issues, is available here.
How does this issue affect the PDF-XChange products?
The only issue that users of the PDF-XChange family of products will experience as a result of the stopping of support for Adobe Flash Player involves PDF-XChange Editor and the display of files in PDF Portfolio Files, which currently display as detailed below: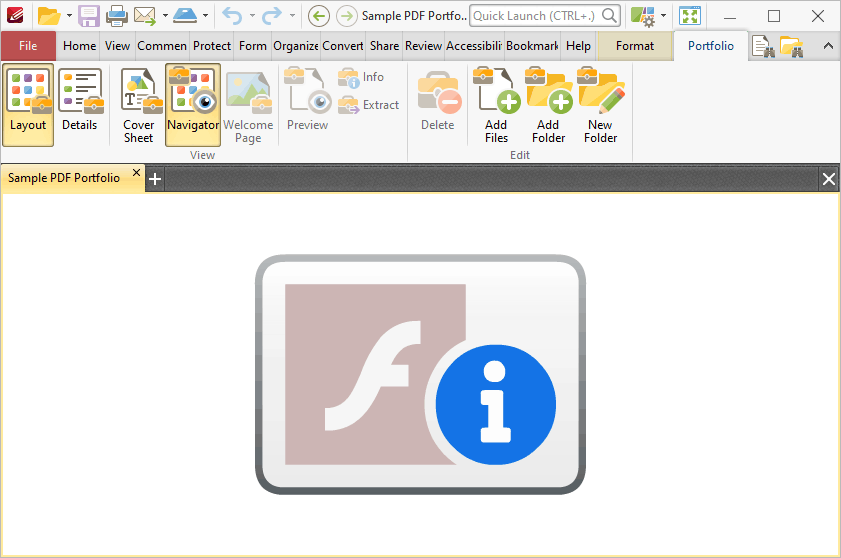 This feature of PDF-XChange Editor depends on Adobe Flash Player in order to display the graphical representation of files within a PDF portfolio file. This issue also means that the functionality that was available in the Portfolio Layout tab will be temporarily unavailable. We are working to resolve these issues as quickly as possible. In the meantime, users can click the 'Details' option in the PDF Portfolio tab in order to view a breakdown of files contained with a PDF portfolio file: