Get Dynamic. Get Efficient. Get Productive. Get PDF-XChange Editor.
Simply put: the smallest, fastest, most feature-rich PDF software available. Create, view, edit, annotate, OCR* and sign PDF files – and that's just the beginning. If you work with PDF then this fully-customizable product will optimize your work process to levels that no other product can achieve.
PDF-XChange Editor can be used to create PDF files from scanned documents, images, text files, Markdown files and much more. This software can also be used to convert Microsoft Office documents into PDF** – a feature that many PDF applications do not offer. There are over a hundred features available, including more than thirty tools that can be used to assist in the creation of document comments, annotations and links. These tools make editing PDFs a finely-tuned, precision process that produces documentation and image files of the highest quality. Our user-friendly functionality is diverse enough to meet the needs of all practitioners from novices to professionals. Please see below for an extensive list of all available features and functionality.
*The OCR process identifies text in documents and uses it to create an invisible text layer that is placed on top of the existing text.
**Please note that source files must be text-based in order to be converted into editable text.
Our support team endeavor to respond to all queries within eight working hours – and we are usually much faster. We are available via email at support@tracker-software.com. Alternatively, browse our free support forums and Knowledgebase for the answers to your questions.
Free stamp collections to use in conjunction with PDF-XChange Editor are available here.
Please note that if it is intended to incorporate and/or distribute this software with other software for commercial profit then you must first gain permission from Tracker Software Products.
Click the thumbnails below to view full-size screenshots.
PDF-XChange Editor supports all Windows (32/64 bit) operating systems from Windows XP* and later:


Version 4, 5, 6, 7: Microsoft/Citrix Terminal Server compatible.
Version 3: Still available for Windows 95/98

We recommended that users install the latest Microsoft Windows service packs and updates before using our products, as doing so will ensure the greatest possible performance of the software.
Our products - in particular the printer drivers that PDF-XChange Standard and PDF-XChange Lite utilize - are not designed to work in virtualized environments such as the XenApp software.
*There are some limitations to product support for Windows XP as Microsoft have stopped supporting it. Further information about this issue is available here.
The PDF-XChange Editor evaluation version is free for private and commercial use, provided it is not bundled with other software for financial gain. When PDF-XChange Editor is used in evaluation mode many menu items are marked with a special

symbol, which indicates that they are licensed features. These features can still be used, but watermarks will be present on output content, as detailed below. Please note that it is not possible to remove evaluation watermarks without a user license. If you want to experiment with the licensed features then we recommend creating a copy of documents with which to experiment.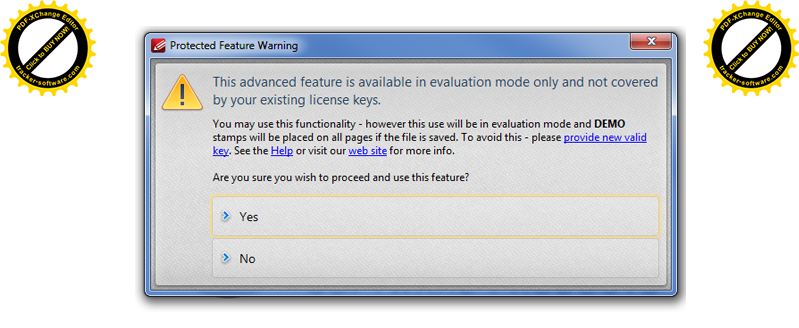 If you want to use a licensed version of PDF-XChange Editor to remove watermarks, then click Document in the menu toolbar, hover over Watermarks and click Remove All.
PDF-XChange Editor Help Manual - To reduce the size of the Viewer installer download file the Help Manual is now a separate download.
Download PDF-XChange Editor Help Manual
Please note:
The PDF-XChange Editor is now designed to allow creation of new PDF files from 3rd party document formats such as MS Office, images, plain text and more. Simply open the document with the Editor. If you wish to create new PDF files from other Windows applications (any that can print to paper) the PDF-XChange Editor license includes the PDF-XChange Lite Printer. The PDF-XChange Editor is designed to create PDF files from many file types - or to scan new pages from your scanner - as well as View/Modify/Annotate etc existing PDF files!

We recommend all users who need to ask which version to download use the zip installer, (the only difference is one is wrapped in a zip file as some download management software will block '.exe' files) this will correctly sense and install for the Windows version you use, MSI installers do not and you must be sure you download the right version for your operating system.
Virtual Print Drivers
PDF-XChange Lite (Now FREE for non-Commercial use, and included for commercial use with the purchase of PDF-XChange Editor/Editor Plus or PDF-Tools)
PDF-XChange PRO (includes PDF-XChange Editor)

MSI Installer Options - who should use ?
The easiest answer to this is if you are not sure - do not use these installers - they are aimed at corporate system administrators - not general users, so if you are not sure - use the default installer provided and not the MSI installer option !!!

International Editor Language Support
PDF-XChange UI Language support files can be found and downloaded from the Language Support page, as well as access to the Language Localization tools should a particular language pack not currently be available.
FREE OCR Support
OCR functionality available at no charge in both the free and licensed PDF-XChange Editor. By default the installations includes 4 default language support (English, French, German & Spanish). Additional Language Extension packages are available here:
Avg. Score From
94
Reviews :
5/5 Stars
by

Kam Ming Lam

13 Jan, 2019 05:11 PM PDT

PDF-XChange Editor is great and the conversion between any format is very fast. It meets all my needs.

by

William Vaughn

12 Jan, 2019 10:10 AM PDT

I purchased PDF XChange in December 2018 after doing a lot of online research. After using the product for a couple of weeks, this is the best product I've found in the below $100 price range. I've used pdf editing software for years in my business. My software of choice there is Bluebeam Revu Standard. It's a great product and it is what I compared all products against during my online research. So, you might wonder, why didn't I simply purchase Bluebeam Revu. Well the version I use in my work was from several years ago when Bluebeam was priced at about $200. But since that time, the company was sold to new owners and the price has increased to $350 for the Standard version. Since I was looking for a pdf editor for personal use, the $350 price tag of Bluebeam was too high. Now back to PDF Xchange. The interface and features of the tool are very good. It does take a little time to learn the tool since it has a lot of capability. The most common features and tasks are quick and easy to find and use. There is one feature I use very often but did not find in PDF Xchange. I even contacted customer service and they confirmed the particular feature is not included in PDF Xchange. In case you're wondering; the feature is the ability to select a number of items (shapes, text areas, or anything) and group them together as one item. This feature is common amongst many graphics types of programs. I was quite surprised it is not in PDF Xchange. So, I continued my research and found another pdf editor called PDF Annotator that does have the grouping function. I use that program when I really want to use grouping. The cost of both programs (PDF Xchange and PDF Annotator) was about half of the cost of Bluebeam Revu Standard). This solution is not the best since I have to use 2 programs but it's the best I found in the price range of half the cost of Bluebeam Revu. I hope PDF Xchange will continue to develop and perhaps add the group feature. I should say, PDF Xchange is my default pdf reading and editing program at this time.

by

Rolf Modin

08 Jan, 2019 10:41 AM PDT

I never give 5 stars. There is always something that can be improved - if you look long enough for it. I am very satisfied with PDF-XChange Editor!

by

Peter Kilian

07 Jan, 2019 07:41 AM PDT

In my opinion that's the best PDF editor one can get this time. Believe me: I know most of the others: Nuance, Nitro, Foxit, Infix, and many others. For me it's the one and only that is really to be called "EDITOR". The only thing I miss is automated creation of forms.

by

STEFANO SELCI

07 Jan, 2019 05:56 AM PDT

The PDF-XChange Editor is fast and reliable. I have not yet used all the available features, but it is already so useful for editing, printing from, to say, Word, and reverse (from PDF to a Word format). Support, and sales processing were perfect.