PDF-XChange PRO is the ultimate PDF solution. There is nothing PDF-related that you cannot achieve with the functionality of this product. It's a bundle package that combines the three best-selling applications that Tracker Software produces:
PDF-XChange Editor Plus is a dynamic and feature-rich program for creating, viewing and editing PDF and image files. It can be used to create seamless PDF files from a wide range of sources – including Microsoft Office documents.
PDF-Tools is a worldwide leader in the creation and manipulation of PDF and image files. Highly user-friendly, it can be used to convert files of almost any format to/from PDF. Avail of thirty-three built-in standard tools, as well as functionality to clone and edit these tools and their variables as you desire.
PDF-XChange Standard is a cutting-edge virtual printer that installs alongside existing printers. It can be used to create, update and print industry-standard PDF files. Enjoy an optimized engine that integrates file optimization with razor-sharp quality.
What do you get when you combine three applications of such functionality and potential into one package? The answer is simple: unbeatable power at an unbeatable price. See below for further information on the features and functionality of each product.
Our support team endeavor to respond to all queries within eight working hours – and we are usually much faster. We are available via email at support@tracker-software.com. Alternatively, browse our free support forums for the answers to your questions.
Please note that if it is intended to incorporate and/or distribute this software with other software for commercial profit then you must first gain permission from Tracker Software.
Features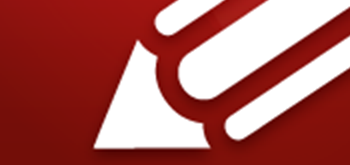 PDF-XChange Editor Plus
Simply put: PDF-XChange Editor is the smallest, fastest, most feature-rich PDF software available. Create, view, edit, annotate, OCR and sign PDF files – and that's just the beginning. If you work with PDF then this fully-customizable product will optimize your work process to levels that no other product can achieve. Create PDF files from scanned documents, images, text files, Markdown files and much more. This software can also be used to open, edit and convert Microsoft Office documents – a feature that many PDF applications do not offer.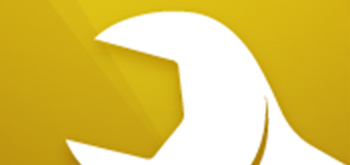 PDF-Tools
PDF-Tools is the only software you need for the creation, conversion and manipulation of PDF and image files. It can be used to convert files of almost any format to/from PDF. This is one of the most advanced and customizable PDF applications available worldwide – a dynamic and user-friendly solution for all your PDF needs. PDF-Tools is compatible with large PDF files and can also handle a huge number of files simultaneously – batch conversion is its strength. Avail of thirty built-in standard tools, as well as functionality to clone and edit these tools and their variables as you desire.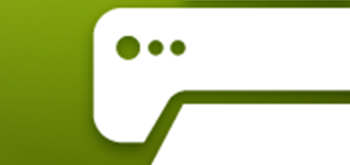 PDF-XChange Standard
Tracker Software's best-selling virtual printer, PDF-XChange Standard, is the ultimate application for the creation and virtual printing of industry-standard PDF files. It's compatible with files from almost all Windows applications, such as Word, Excel and AutoCAD, and features an optimized engine for superb conversion of images and image-based text characters. The files it creates are surprisingly small, given their quality – allowing for faster uploads/downloads, a reduction in storage space and increased data retention - even at high levels of compression.
PDF-XChange Editor Plus
Manipulate Documents

Create, print and email documents. Use Sharepoint, Dropbox, Google Drive and/or MS Office 365 integration to open documents directly from 'the cloud' and then use PDF-XChange Editor functionality to convert them to/from PDF. Combine PDFs into a new document. View and edit MS Word documents. Create PDF documents directly from scanned material.

Secure Files

Enjoy 40/128 bit RC4 and 128/236 bit AES Encryption that maximizes your document security. Inherent Data Execution Protection functionality saves your files from malicious malware and viruses. Use digital signatures to further enhance your security and add timestamp server verification as desired.
PDF-Tools
Secure PDF Files

Use a certificate-based digital ID to add and sign signature fields. (Digital signatures can also be removed unless document security prevents it). Add document-level timestamps to verify signatures. Avail of certified signature fields to certify documents. Add customizable password secutiy to documents.
PDF-XChange Standard
Update PDF Files

Use Watermarks, Auto Bookmark Generation, Headers and Footers and Link Settings to update PDF files. Edit document information - including the options to add XMP Metadata. Create new files from Windows applications, create Interactive Adobe AcroForms, append and/or prepend PDF files with pages from other documents and enjoy complete control over PDF creation properties.

Secure PDF Files

Use comprehensive Digital Signature and Security Settings, including 40/128 bit RC4 and 128/256 bit AES Encryption options, to secure PDF flies. Password protection and permission options are also available. PDF-XChange Standard is compatible with Citrix Metaframe/Terminal Server but users should note that we do not support XennApp at this time. Specifically, the printer drivers are not designed to work in a virtualized environment.

And Much More...

Enjoy mulitple further miscellaneous features and functions of PDF-XChange Standard.
PDF-XChange PRO offers a robust print-driver
Take control of all aspects of the print to PDF process with our highly customizable option sets including compression, font embedding and security features including Digital Signature support and much, much more!
PDF-XChange Pro Bundle includes our New Editor Plus
Edit, Annotate, highlight, re-order pages and add/modify bookmarks all in this customizable, feature rich PDF Editor/ PDF Reader that is quickly being recognized as second to none in it's class. PDF-XChange Editor Plus is available as a free pdf viewer download, or purchase a license to unlocks the many advanced features like the ability to directly edit text of text based PDF files! The new Editor Plus includes all the features of the Editor with the added ability to create and edit Fillable PDF Forms and Dynamic Stamps
PDF-XChange PRO Includes the All New PDF-Tools V6!
The all new PDF-Tools V6 has been completely re-designed, including over 20 PDF Batch Processing Tools straight out of the box as well as the flexibility of being able to clone and edit existing Tools and even created your own custom Batch Tools using any number of Action objects from the list of available Actions.
PDF-XChange Pro supports all Windows (32/64 bit) operating systems from Windows XP** and later.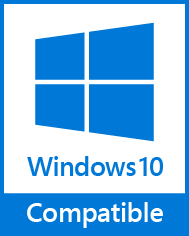 Version 5 (2012): Microsoft/Citrix Terminal Server compatible*.
Version 4: Microsoft/Citrix Terminal Server compatible*.
Version 3: Still available for Windows 95 and later.

* Note: Though many users have virtualized some of our component products such as the PDF-XChange Viewer and PDF-Tools application using XenApp, we do not support this at this time. Particularly the printer drivers are not designed to work in a virtualized environment.
** Limitations to product support for Windows XP
To experience the best performance of our products on all Windows operating systems, the onus is on users to ensure that they have all the latest available Microsoft Windows Service Packs & Updates installed.
Please feel free to try any, or all, of our evaluation version; none have any kind of time limitation or restrictions to their respective feature-sets. The only caveat is that that any documents converted to a PDF will contain a demo stamp/watermark. (see below)
Should you decide to purchase the product in question, all new content is created without this watermark and your pages will be free and clear of such an evaluation image.
We guarantee that none of our evaluation products require registration, nor do they contain Spyware, Adware or any other invasive content. Each product allows you to easily uninstall at any time from the Windows Control panel - 'Add/Remove software' option!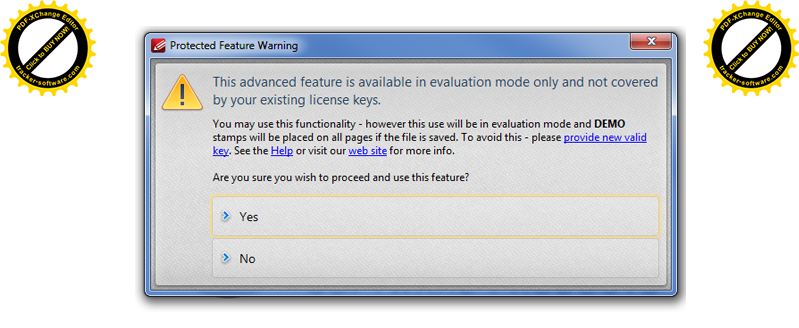 PDF-XChange PRO is available in an 32/64 bit .EXE installer for home users and non-network installations
Intended for System Administrators we will soon offer 32 and 64 bit MSI installers for network installations of PDF-XChange PRO.
Avg. Score From
44
Reviews :
5/5 Stars
by

Manula Doratiyawa

14 Oct, 2016 07:48 PM PDT

can develop it to connect dictionary to view instance transitions. THat be cause for easy reading.

by

Davie Blair

26 Apr, 2016 12:50 PM PDT

I use this in my civil engineering job every day . . . absolute top notch and makes my work stream flow so easily . . . highly recommended !!!

by

Mark Wasserman

11 Apr, 2016 07:27 AM PDT

Very good software, and very intuitive. It blows Adobe out of the water! And, at a reasonable price too.

by

Karsten Groth

31 Mar, 2016 05:35 AM PDT

Version 5 was perfect and fast, V6 RPO even better with fast and complete add-inn's in all office programs

by

Assur&Sens -

24 Jan, 2016 06:35 AM PDT

Le plus fiable, le plus léger et ayant le moins de crash. L'ouverture sous forme d'onglets est un must !
L'un des logiciels dont nous nous servons le plus dans notre entreprise.

A recommander.