Incorporated in 1997 to develop Imaging and PDF format related software, Tracker Software have sales offices in Canada and the UK, with additional development offices in the USA and Ukraine. The main thrust of our products are PDF Document / Imaging related applications and developer toolkits.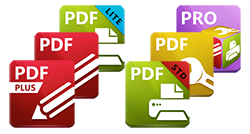 From the release of our very first products we have welcomed resellers and distributor partners of all sizes world wide and continue to do so. Our experience proves to us that both larger general resellers and smaller specialist companies all offer a unique and valuable route to market for our quality products and we welcome enquiries from resellers of all sizes.
In return for your enthusiasm and knowledge we offer excellent reseller discounts, quality products and a close working relationship with all of our team - many of the best ideas for enhancing our products have come from our loyal and dedicated resellers and we look forward to continuing to build our relationships with our existing resellers and every new reseller joining us - so if you are looking for a long term and rewarding experience built on trust and quality products - contact us now using the forms below
View our list of resellers to find one near you.
Reseller News Alert: Duped Users buy 'hacked copies of PDF-XChange... Read more
Want to promote
PDF-XChange

products on your web site?

To get the Current Price List, Marketing Collateral and

PDF-XChange Viewer

Download button visit our

Reseller Resources

page.
FREE PDF-XChange PRO License to Translation Volunteers - click here to learn more
Register New Reseller
Please note: Only Roman/Latin Alphabet text are allowed and all special characters are blocked - with the exception of the space( ) and apostrophe (') characters within the Company Name and Contact fields only.