Tracker Software Products is pleased to offer our Commercial and Business customers who have purchased a license for PDF-XChange Viewer (PRO version), the means to convert to PDF from any windows based application with a 'FREE' copy of PDF-XChange 5.0 Lite.
Upgrade to the licensed PDF-XChange Viewer and then
Claim your FREE
PDF-XChange 5 Lite

license!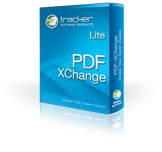 Your PDF-XChange Viewer license will now work directly in the latest PDF-XChange 5 Lite installer,
click here to download PDF-XChange 5 Lite now!
PDF-XChange 5.0 'Lite' is our best selling solution for the creation of Adobe compatible PDF files from virtually any Windows application, the list is endless. PDF-XChange 'Lite' is a simplified version of the PDF-XChange Standard print driver. So now you get not only an excellent tool for PDF viewing and modification - but also one of the most highly rated creation tools available - all for one 'low' price. If you purchased a multiple user license you will be offered a PDF-XChange 'Lite' multiple user license too match ! If you don't claim your license now - this offer will expire and you will not be able to claim later.

It is ideal for Home users, Small business and all those requiring a simple yet highly efficient way to create PDF files using our award winning PDF technology to create the smallest PDF files available from any Windows software application.

If you purchased your

PDF-XChange Viewer PRO

license recently you most likely already have a registered account as this is created automatically for every new online purchase ...

**If your serial key begins with PXP50-XXXXX-XXXXX-XXXXX-XXXXX-XXXXX you own

PDF-XChange 5 PRO

(bundle) and already have a more advanced

PDF-XChange

virtual-printer for converting documents to PDF. Therefore, the Lite Promo will not be shown on your account screen and the PRO key will not function in

PDF-XChange Lite

- you already have the more advanced (PRO) Version available !


T
hank you for purchasing

PDF-XChange Viewer PRO

and we know you will enjoy using your FREE copy of

PDF-XChange 5 Lite

.