Do you need to convert MS Office files into PDF format? Do you need a virtual printer to print/convert/preview documents? Do you need to create PDF files that combine image quality with space efficiency and superb data retention – even at high levels of compression?
If the answer to any of these questions is yes then this is the product for you. Tracker Software's best-selling virtual printer, PDF-XChange Standard, is the ultimate application for the creation and virtual printing of industry-standard PDF files. It's compatible with files from almost all Windows applications, such as Word, Excel and AutoCAD, and features an optimized engine for superb conversion of images and image-based text characters. The files it creates are surprisingly small, given their quality – allowing for faster uploads/downloads, a reduction in storage space and increased data retention.
PDF-XChange Standard also features MS Office integration, which provides extra functionality such as adding clickable tables of contents and embedded URL support that facilitates the creation of external links. Batch conversion is also supported, making it possible to convert multiple MS-Office-compatible files simultaneously into PDF format.
Virtual printers generate fully-compatible, industry-standard, native PDF files (as opposed to paper versions of documents). When suitable source material is used these documents feature searchable text, which greatly increases the efficiency of searching, selecting and editing files. PDF-XChange Standard features a wide range of functionality and customizable options to enhance, update and secure PDF files - please see below for an extensive list.
Our support team endeavor to respond to all queries within eight working hours – and we are usually much faster. We are available via email at support@tracker-software.com. Alternatively, browse our free support forums for the answers to your questions.
Please note that if it is intended to incorporate and/or distribute this software with other software for commercial profit then you must first gain permission from Tracker Software.
Features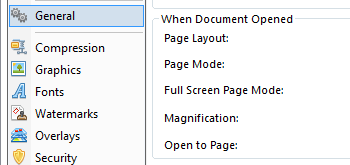 Use Dynamic Options to Enhance PDF Files
Avail of flexible output options, utilize comprehensive job management features, use "Batched" and "Watched" folder conversion of MS Office documents to PDF and much more - see below for an extensive list of available features and functionality.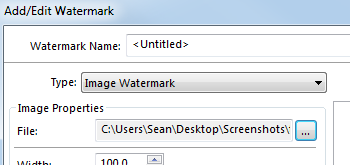 Update PDF Files
Use Watermarks, Auto Bookmark Generation, Headers and Footers and Link Settings to update PDF files. Edit document information - including the options to add XMP Metadata. Create new files from Windows applications, create Interactive Adobe AcroForms, append and/or prepend PDF files with pages from other documents and enjoy complete control over PDF creation properties.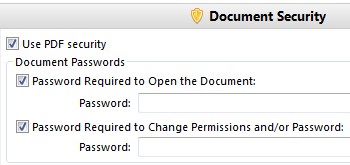 Secure PDF Files
Use comprehensive Digital Signature and Security Settings, including 40/128 bit RC4 and 128/256 bit AES Encryption options, to secure PDF flies. Password protection and permission options are also available. PDF-XChange Standard is compatible with Citrix Metaframe/Terminal Server but users should note that we do not support XennApp at this time. Specifically, the printer drivers are not designed to work in a virtualized environment.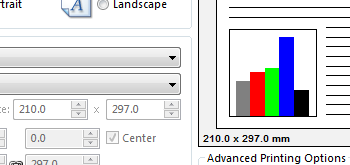 Customize Your Experience
Create user profiles, determine UI language, set font and downsampling options, paper settings, custom form options, optimization, compression, resolution and scaling settings.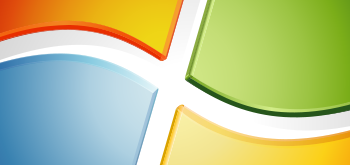 Miscellaneous
Enjoy mulitple further miscellaneous features and functions of PDF-XChange Standard - see below for more information.
Use Dynamic Options to Enhance PDF Files
Enable Job Management Features

Utilize multiple available options to assist in the virtual printing of documents. Enable options to save generated files, append the current job to the previous job, generate, email and then delete PDFs or use the PDF Saver to combine multiple print jobs into a single PDF document.

Convert and Archive Files

Feel the difference: our latest build features improved image/image text character conversion that our reengineered and optimized conversion engine makes possible. We have also introduced support for several more PDF/A formats, which makes long-term archiving possible whilst retaining high levels of quality.
Update PDF Files
Customize Your Experience
Secure PDF Files
Miscellaneous
Create Interactive Adobe AcroForms

Use the Toolbar Add-In and MSWord 2003 to convert MS Web forms and create interactive Adobe Acroforms.

Create PDF Files from Windows Output

Create PDF files from the output of all Windows applications.

Use a Terminal Server

PDF-XChange Standard is Citrix Metaframe/Terminal Server certified.

Enjoy Extra Security

Revision 6 of Acrobat X® password security handler is supported.

Use CJK Fonts

PDF-XChange Standard supports CJK fonts and character sets.
PDF-XChange Standard supports all Windows (32/64 bit) operating systems from Windows XP and later.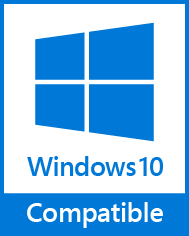 Version 5 (2012): Microsoft/Citrix Terminal Server compatible*.
Version 4: Microsoft/Citrix Terminal Server compatible*.
Version 3: Still available for Windows 95 and later.

* Note: Though many users have virtualized some of our component products such as the PDF-XChange Viewer and PDF-Tools application using XenApp, we do not support this at this time. Particularly the printer drivers are not designed to work in a virtualized environment.
** Limitations to product support for Windows XP
To experience the best performance of our products on all Windows operating systems, the onus is on users to ensure that they have all the latest available Microsoft Windows Service Packs & Updates installed.
Please feel free to try any, or all, of our evaluation version; none have any kind of time limitation or restrictions to their respective feature-sets. The only caveat is that that any documents converted to a PDF will contain a demo stamp/watermark. (see below)
Should you decide to purchase the product in question, all new content is created without this watermark and your pages will be free and clear of such an evaluation image.
We guarantee that none of our evaluation products require registration, nor do they contain Spyware, Adware or any other invasive content. Each product allows you to easily uninstall at any time from the Windows Control panel - 'Add/Remove software' option!

PDF-XChange Standard is available in an 32/64 bit .EXE installer only.
Avg. Score From
2
Reviews :
5/5 Stars