Features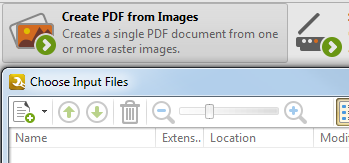 Create PDF Files
Create PDF files from all industry-standard formats, image files and/or text files. Extract pages from multiple sources into a new PDF file.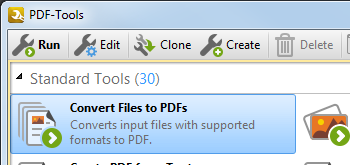 Edit and Update PDF Files
Utilize thirty Standard Tools to create, edit, update, convert and/or secure PDF documents.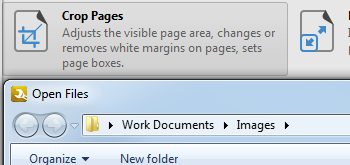 Edit Document Pages
Crop, OCR, optimize, overlay, resize, rotate, insert, replace and/or delete document pages.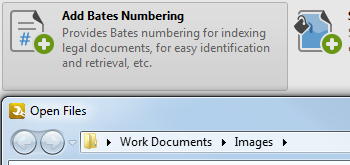 Enhance PDF Files
Add/remove Bates Numbering, headers and footers, watermarks and/or backgrounds from PDF files.Change document properties, convert to PDF/A or PDF/X format, extract images and split/merge PDF files.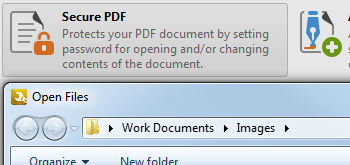 Secure PDF Files
Use a certificate-based digital ID to add and sign signature fields. (Digital signatures can also be removed unless document security prevents it). Add document-level timestamps to verify signatures. Avail of certified signature fields to certify documents. Add customizable password secutiy to documents.
Create PDF Files
Convert Files to PDF

Use the Convert Files to PDF tool to convert source files into PDF. This tool is specifically designed for files that contain both text and images and supports a wide range of formats.
Export PDF Files
Enhance PDF Files
Change Document Properties

Use the Change Document Properties feature to create/edit properties of PDF files. Available properties are Title, Author, Subject, Keywords and Creator. Add Macros to further enhance document dynamism.
Secure PDF Files
Three Applications for the Price of One
PDF-XChange Editor

If you buy a licensed version of PDF-Tools then you will also receive a licensed copy of PDF-XChange Editor. Simply put: this application is the smallest, fastest, most feature-rich PDF software available. Create, view, edit, annotate, OCR and sign PDF files – and that's just the beginning. If you work with PDF then this fully-customizable product will optimize your work process to levels that no other product can achieve.
PDF-Tools 4 supports all Windows (32/64 bit) operating systems from Windows XP** and later.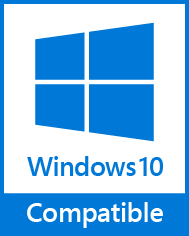 Version 4: Microsoft/Citrix Terminal Server compatible*.

* Note: Though many users have virtualized some of our component products such as the PDF-XChange Viewer and PDF-Tools application using XenApp, we do not support this at this time. Particularly the printer drivers are not designed to work in a virtualized environment.
** Limitations to product support for Windows XP
To experience the best performance of our products on all Windows operating systems, the onus is on users to ensure that they have all the latest available Microsoft Windows Service Packs & Updates installed.
Please feel free to try any, or all, of our evaluation version; none have any kind of time limitation or restrictions to their respective feature-sets. The only caveat is that that any documents converted to a PDF will contain a demo stamp/watermark. (see below)
Should you decide to purchase the product in question, all new content is created without this watermark and your pages will be free and clear of such an evaluation image.
We guarantee that none of our evaluation products require registration, nor do they contain Spyware, Adware or any other invasive content. Each product allows you to easily uninstall at any time from the Windows Control panel - 'Add/Remove software' option!

Avg. Score From
3
Reviews :
5/5 Stars
by

Francesco

11 Jun, 2010 09:04 AM PDT

Ottimo per salvare e modificare file pdf

by

Linda Stojanovska

25 Nov, 2006 06:00 AM PDT

With pdf-tools you don't need an expensive duplex scanner! All you need to do is scan the odd pages into a single pdf, flip the pages over and then scan the even pages into a single pdf (the order is backwards but read on). Then with pdf-tools (split/merge), reverse the order of the pdf with the even pages, split the odd page pdf to separate pages using

a, split the even pages to separate pages using b and then merge these - in alphabetical order - into a single document. I love it. It takes me all of 45 seconds. Fantastic.

by

Steve Barsell

09 Jan, 2007 11:43 AM PDT

Thank you for your prompt help installing. The information you sent to me was very helpful. I believe that I was trying to run the software before 1st saving it. PDF tools is now working correctly and I can't thank you enough for taking the time to help me with this application. Again, thank you very much. Have a wonderful new year.