Designed for anyone from home users to large corporate environments that wish to View/Edit/Modify and even OCR Image based PDF files on their Windows PC's. There is now a FREE pdf reader alternative to the Adobe Reader that truly raises the bar! The PDF-XChange Editor is smaller, faster and more feature rich than any other FREE PDF Reader/ PDF Viewer/ PDF Editor available on the market. This free pdf editor download also allows users to try the extended functionality offered by the licensed PDF-XChange Editor in evaluation mode - for free. No PDF reader or Viewer offers more features than PDF-XChange - or does so without compromising performance, quality or security. Checkout the feature list below and save $100's in unnecessary expenditure on your PDF software solution today.

PDF-XChange Editor Plus is now available. The new version of the Editor includes all the features of the standard Editor plus a newly designed Fillable Forms Designer/Editor. It also provides the ability to Create Dynamic Stamps using the features of the new Forms designer.
The licensed PDF-XChange Editor, is a PDF creator in it's own right, allowing users to create PDF files directly from scanners, image files and can even take a .txt or a .rtf file and convert it to PDF or build your PDF document from scratch. Now opens Image files & MSOffice documents natively and converts to PDF automatically.
The PDF-XChange Editor & Editor Plus includes the PDF-XChange Lite Printer, a virtual printer installed to your printers list for converting to PDF from any Windows application.

Do you require editing or creating fillable PDF forms? The PDF-XChange Editor Plus includes all the features of the PDF-XChange Editor plus a powerful new Fillable Forms Designer/Editor. Fast-track communication with customers or inter-department work flow with Fillable PDF Forms saving time & money.
Multiple Language Support, The PDF-XChange Editor/Editor Plus is installed with a base language set of English, French, German & Spanish, Additonal UI Language Extension packages are available here.
The FREE OCR functionality supports a base language set of English, French, German & Spanish. Additional OCR Language Extension Packages are available here.

The FREE download of the PDF-XChange Editor may be used without limitation for Private, Commercial, Government and all uses, provided it is not: incorporated or distributed for profit/commercial gain with other software or media distribution of any type - without first gaining permission.
Free Stamp Collections for PDF-XChange Viewer/Editor - Click here
Included FREE features:

(NEW) View Image and MSOffice® files natively and convert to PDF automatically!
(NEW) Improved Full Document Spellchecker
(NEW) Google Drive™ & Microsoft® Office365™ & SharePoint® Support*
(NEW) Extended Multi-Language document OCR options
Full Page Text Content Editing (text based PDFs, not scanned PDFs)
PDFA plugin to convert existing or newly created PDF files to PDF/A-1, PDF/A-2 or PDF/A-3 format.
OCR image based/scanned PDF's to fully text searchable PDF files.
Expanded XFA forms support.
Listen/add audio comments
View embedded Multimedia support
Add application preferences and Presets options
Significantly improved rendering and page load speed
Add Comments and Annotations to any PDF file (subject to security settings) - unlike the Adobe Viewer which requires the PDF creation tool to be 'certified' by Adobe !
Add & apply Custom Stamps from Image or PDF File and even your Windows Clipboard!
Measurement Tools incl. perimeter and area
Mark-up pages with text and objects
Type directly on any PDF page, not just Adobe enabled forms documents - in Typewriter mode.
Export PDF pages or entire files to any one of the supported Image formats including BMP, JPEG, TIFF, PNG and many more ...
Make your navigation of large or complex PDF files both simple and enjoyable with the extended functionality of our 'Loupe' and the 'Pan' Window tools
PDF Security Support including 40/128 bit RC4 and 128/256 bit AES Encryption Password and Permissions Add/Edit
Data Execution Prevention (DEP) - stops the execution of nefarious scripts from Virus's/trojans etc.
Fill and Save Adobe Forms to disk, email or 'post' - including XFA and dynamic forms
Full Java-script engine included
Store/Restore of last opened files (last session)
Updated JPEG2000 Compression support - improving speed.
Plug-Ins for both MS IE or Firefox Browser's included
Integrate seamlessly with your favorite translation software to translate text on the 'fly' - including : ABBYY Lingvo 12, Translate It!, Lingoes.
Auto-Highlights Fillable Form Fields
Integrated Shell Extensions for PDF thumbnails and document preview in Windows Explorer
Improved image embedding (supported formats)
Document Search. Probably the fastest PDF document search engine available today

*Google Drive™ online storage service is a Trademark of Google Inc and provided under license
SharePoint® & Office365™ are registered trademarks of Microsoft®


Included FREE features:

Add/Edit Hyperlinks to pages within same PDF, pages in another PDF and external links to Web based URLs
Adobe® Portfolios® Supported
Includes comprehensive Help file and PDF Manual - no extra downloads required to add features etc.
Support for PDF File Attachments (portfolio)
Send PDF files via email from viewer
Undo/Redo functionality for text editor
Portable version is available - can be run from any suitable device such as a Memory stick/CD/DVD etc - simply unzip and use - no installation required!
Compatible with Windows XP and later (32/64 bit)
Simple editing options - see latest releases
Add/Edit/Move Bookmarks

Advanced features - License Required.

(NEW PDF-XChange Editor Plus only)

Create and Edit Fillable PDF Forms

(NEW PDF-XChange Editor Plus only)

Create and Edit Dynamic Stamps

(New)

Convert PDF to MSWord® format
Convert PDF to MSPowerPoint® format
Reduce PDF file size by Image compression/downsampling & embed/unembed Font, PDF Optimization
Advanced PDF Bookmark creation and management
Direct Content Editing (Paths & Images)
Combine PDFs open/closed pdfs
Import Directly from XPS and other support formats
Header & Footer Support
Bates Numbering
Delete Pages
Move Pages - By Drag&drop in Thumbnails View.
Insert/Import Pages (from existing PDF files)
Extract pages to a new file (PDF or Image format - 15 formats supported)
Crop Pages/Files
Flatten Annotations/Comments
Insert Blank page
Summarize Comments
Export Comments
Scan Direct to PDF (now with inline OCR option during scanning process)
Create PDF documents from text and RTF files
Convert 15 supported image formats to PDF
Extended Digital Signature Support (incl. Time Stamps)
Security Profiles (for adding security to documents conveniently)
Improved Browser Plug-ins to reduce compatibility issues
And now even more value! Purchase an Editor or Editor Plus* license and receive a FREE copy of

PDF-XChange Lite

and much more...
PDF-XChange Editor supports all Windows (32/64 bit) operating systems from Windows XP** and later.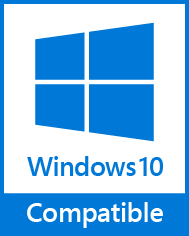 Version 5 (2012): Microsoft/Citrix Terminal Server compatible*.
Version 4: Microsoft/Citrix Terminal Server compatible*.
Version 3: Still available for Windows 95/98

* Note: Though many users have virtualized some of our component products such as the PDF-XChange Viewer and PDF-Tools application using XenApp, we do not support this at this time.Particularly the printer drivers are not designed to work in a virtualized environment.
** Limitations to product support for Windows XP
To experience the best performance of our products on all Windows operating systems, the onus is on users to ensure that they have all the latest available Microsoft Windows Service Packs & Updates installed.
PDF-XChange Editor 'Free Version' is free for private and commercial use, provided it is not bundled with other software for financial gain. In FREE mode, many menu items will be marked with a special marker indicating that the specific feature requires a license to use without, producing watermarks:

You can try any of these "Protected" features but, be very careful not to save your PDF if you do not want the watermarks to appear in the upper corners of each page in the document. Once a document is watermarked, there is no way to remove them without a license, so save a copy of the original PDF, before trying the PRO features in an unlicensed Editor. After purchasing a license for the Editor, use Document->Watermarks->Remove All to remove demo watermarks.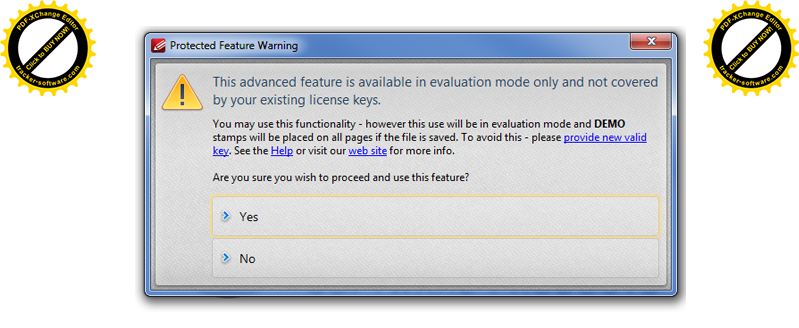 PDF-XChange Editor Help Manual - To reduce the size of the Viewer installer download file the Help Manual is now a separate download.
You can download the Viewer Manual here: Download PDF-XChange Editor Help Manual.
Please note :
The PDF-XChange Editor is not designed to create new PDF files from 3rd party document formats such as MS Office, Internet Explorer etc - if you wish to create NEW PDF files from Windows applications (any that can print to paper) the PDF-XChange Editor license includes the PDF-XChange Lite Printer - (separate download available here) which will as well license with the Editor license key - the PDF-XChange Editor is designed to create PDF files only from images - or to scan new pages from your scanner - as well as View/Modify/Annotate etc - existing PDF files!

We recommend all users who need to ask which version to download - use the exe/zip installers (the only difference is one is wrapped in a zip file as some download management software will block '.exe' files) as this will correctly sense and install for the Windows version you use, MSI installers do not and you must be sure you download the right version - for the operating system your system uses.
Virtual Print Drivers
PDF-XChange 6 Lite (Now FREE for non-Commercial use, and included for commercial use with the purchase of PDF-XChange Editor/Editor Plus v6 or PDF-Tools v6)
PDF-XChange 6 PRO (includes PDF-XChange Editor)

MSI Installer Options - who should use ?
The easiest answer to this is if you are not sure - do not use these installers - they are aimed at corporate system administrators - not general users, so if you are not sure - use the default installer provided and not the MSI installer option !!!

International Editor Language Support
PDF-XChange UI Language support files can be found and downloaded from the Language Support page, as well as access to the Language Localization tools should a particular language pack not currently be available.
FREE OCR Support
OCR functionality available at no charge in both the free and licensed PDF-XChange Editor. By default the installations includes 4 default language support (English, French, German & Spanish). Additional Language Extension packages are available here:
https://www.tracker-software.com/pdf-xchange-viewer-ocr
Avg. Score From
41
Reviews :
5/5 Stars
by

Kevin J.

22 Nov, 2016 02:20 PM PDT

I am not a heavy user of PDFs but do work with them frequently.

Imagine my horror when my company uninstalled my Adobe Standard X and replaced it with some off-brand junk called PDF-XChange Editor Plus.

Well, seeing as I had no choice, I began to use the software.

The first 30 seconds of use I determined that maybe the program was okay so I continued.

That is when I realized that this program is VASTLY superior to Adobe.

I am still trying to figure out all that I can do to PDFs with this program and will likely be doing so for the foreseeable future.

Thank you Tracker. You Canucks are pretty sharp!

by

Sam

10 Oct, 2016 02:27 AM PDT

Top! Even the free version is verry good for studiing. Thanks

by

Peter

30 Jul, 2016 04:32 AM PDT

After years of use, I was tired of the the terrible user interface of Acrobat Reader. Your software is a delight for me (using it for 2 weeks now) !

by

Carolina

28 Jul, 2016 06:05 AM PDT

Hey, guys! We need autosave in PDF XChange Editor!

by

patty davila

22 Jul, 2016 09:51 AM PDT

I have PDF Xchange Pro V6 and PDF Tools V6. Where is the documentation for PDF Tools V6, I have looked everywhere. I am currently using the documentation for V4 but there are a few differences. Also Make it easy to find documentation. If you don't search the web high and low you won't find what you need.