Get Dynamic. Get Efficient. Get Productive. Get PDF-XChange Editor.
Simply put: the smallest, fastest, most feature-rich PDF software available. Create, view, edit, annotate, OCR* and sign PDF files – and that's just the beginning. If you work with PDF then this fully-customizable product will optimize your work process to levels that no other product can achieve.
PDF-XChange Editor can be used to create PDF files from scanned documents, images, text files, Markdown files and much more. This software can also be used to convert Microsoft Office documents into PDF** – a feature that many PDF applications do not offer. There are over thirty tools available to assist in the creation of document comments, annotations and links. These tools make editing PDFs a finely-tuned, precise process that produces documentation and image files of the highest quality. Our user-friendly functionality is diverse enough to meet the needs of all practitioners from novices to professionals. Please see below for an extensive list of all available features and functionality.
*The OCR process identifies text in documents and uses it to create an invisible text layer that is placed on top of the existing text.
**Please note that source files must be text-based in order to be converted into editable text.
Our support team endeavor to respond to all queries within eight working hours – and we are usually much faster. We are available via email at support@tracker-software.com. Alternatively, browse our free support forums and Knowledgebase for the answers to your questions.
Free stamp collections to use in conjunction with PDF-XChange Editor are available here.
Please note that if it is intended to incorporate and/or distribute this software with other software for commercial profit then you must first gain permission from Tracker Software Products.
Click the thumbnails below to view full-size screenshots.
PDF-XChange Editor supports all Windows (32/64 bit) operating systems from Windows XP** and later.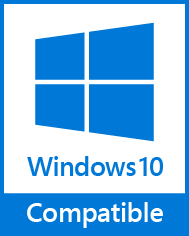 Version 5 (2012): Microsoft/Citrix Terminal Server compatible*.
Version 4: Microsoft/Citrix Terminal Server compatible*.
Version 3: Still available for Windows 95/98

* Note: Though many users have virtualized some of our component products such as the PDF-XChange Viewer and PDF-Tools application using XenApp, we do not support this at this time.Particularly the printer drivers are not designed to work in a virtualized environment.
** Limitations to product support for Windows XP
To experience the best performance of our products on all Windows operating systems, the onus is on users to ensure that they have all the latest available Microsoft Windows Service Packs & Updates installed.
The PDF-XChange Editor evaluation version is free for private and commercial use, provided it is not bundled with other software for financial gain. When PDF-XChange Editor is used in evaluation mode many menu items are marked with a special

symbol, which indicates that they are licensed features. These features can still be used, but watermarks will be present on output content, as detailed below. Please note that it is not possible to remove evaluation watermarks without a user license. If you want to experiment with the licensed features then we recommend creating a copy of documents with which to experiment.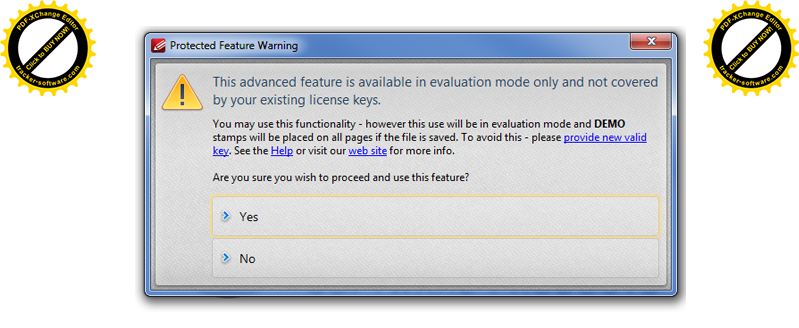 If you want to use a licensed version of PDF-XChange Editor to remove watermarks, then click Document in the menu toolbar, hover over Watermarks and click Remove All.
PDF-XChange Editor Help Manual - To reduce the size of the Viewer installer download file the Help Manual is now a separate download.
Download PDF-XChange Editor Help Manual
Please note:
The PDF-XChange Editor is not designed to create new PDF files from 3rd party document formats such as MS Office, Internet Explorer etc - if you wish to create NEW PDF files from Windows applications (any that can print to paper) the PDF-XChange Editor license includes the PDF-XChange Lite Printer - (separate download available here) which will as well license with the Editor license key - the PDF-XChange Editor is designed to create PDF files only from images - or to scan new pages from your scanner - as well as View/Modify/Annotate etc - existing PDF files!

We recommend all users who need to ask which version to download - use the exe/zip installers (the only difference is one is wrapped in a zip file as some download management software will block '.exe' files) as this will correctly sense and install for the Windows version you use, MSI installers do not and you must be sure you download the right version - for the operating system your system uses.
Virtual Print Drivers
PDF-XChange 6 Lite (Now FREE for non-Commercial use, and included for commercial use with the purchase of PDF-XChange Editor/Editor Plus v6 or PDF-Tools v6)
PDF-XChange 6 PRO (includes PDF-XChange Editor)

MSI Installer Options - who should use ?
The easiest answer to this is if you are not sure - do not use these installers - they are aimed at corporate system administrators - not general users, so if you are not sure - use the default installer provided and not the MSI installer option !!!

International Editor Language Support
PDF-XChange UI Language support files can be found and downloaded from the Language Support page, as well as access to the Language Localization tools should a particular language pack not currently be available.
FREE OCR Support
OCR functionality available at no charge in both the free and licensed PDF-XChange Editor. By default the installations includes 4 default language support (English, French, German & Spanish). Additional Language Extension packages are available here:
Avg. Score From
42
Reviews :
5/5 Stars
by

Kevin J.

22 Nov, 2016 02:20 PM PDT

I am not a heavy user of PDFs but do work with them frequently.

Imagine my horror when my company uninstalled my Adobe Standard X and replaced it with some off-brand junk called PDF-XChange Editor Plus.

Well, seeing as I had no choice, I began to use the software.

The first 30 seconds of use I determined that maybe the program was okay so I continued.

That is when I realized that this program is VASTLY superior to Adobe.

I am still trying to figure out all that I can do to PDFs with this program and will likely be doing so for the foreseeable future.

Thank you Tracker. You Canucks are pretty sharp!

by

stefan

23 Oct, 2017 03:21 AM PDT

Top program!! The best there is.

by

Sam

10 Oct, 2016 02:27 AM PDT

Top! Even the free version is verry good for studiing. Thanks

by

Peter

30 Jul, 2016 04:32 AM PDT

After years of use, I was tired of the the terrible user interface of Acrobat Reader. Your software is a delight for me (using it for 2 weeks now) !

by

Carolina

28 Jul, 2016 06:05 AM PDT

Hey, guys! We need autosave in PDF XChange Editor!