How do I add a watermark that says "Draft" on each page?
Knowledge Base Article:

KB212

Created On:

Sep 21, 2009 02:55 PM

Last Modified:

: Aug 5, 2014 04:05 PM

125485 visit(s)
I cannot add a watermark using PDF-XChange Viewer. Is there a way to add a watermark that says "Draft" on each page?
PDF-XChange Viewer does not support adding watermarks to documents.
You can use the stamp tool, draft stamp and right-click the stamp once it's on the page and reduce it's opacity,

But this would need to be done manually to each page.
or
You could export the 'Draft' stamp as an image, then if if you bought PDF-XChange 4 Print driver you could create a water mark from that image. The Print driver has options for adding a watermark automatically when printing to PDF. This would give you more control over the location and transparency of the final watermark.
Add a Watermark using the PDF-XChange 4 Standard Print Driver
Open the PDF-XChange 4 Printing Preferences by right clicking the driver in your Printers list in the Windows Control Panel:
In Windows XP look for "Printers and Faxes".
In Windows Vista look for "Printers"
In Windows 7 and 8 look for "Devices and Printers"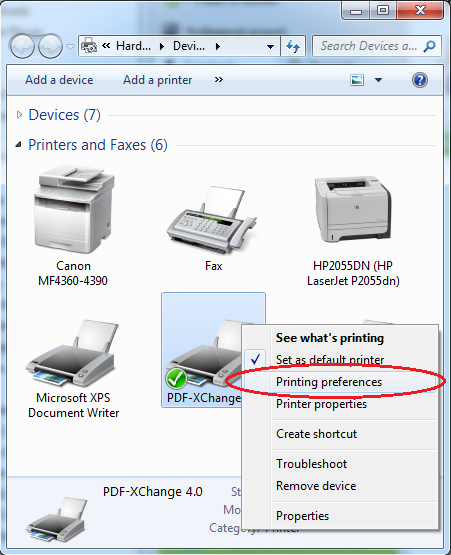 On the "Settings" tab select the Watermarks category to open the "Watermarks Pane" where you can set up multiple different water marks, store them in the "Watermarks List" then pick and choose from these.
Check the box to "Enable Watermark Printing".
To set up a new watermark click the 'New" button at the bottom of the Watermarks Pane using the "Add/Edit Watermark" dialogue. Watermarks can be either text or image based and the options available in this window will change accordingly. For this example we will be making a text based water mark that says "Draft"
Select Text as the "Type"
Enter the text "Draft" in the text box labeled "Text"
Choose a font, colour, size, rotation and Opacity. There is an option to let the text autosize. This will make the text as large as possible within the constraints of the page.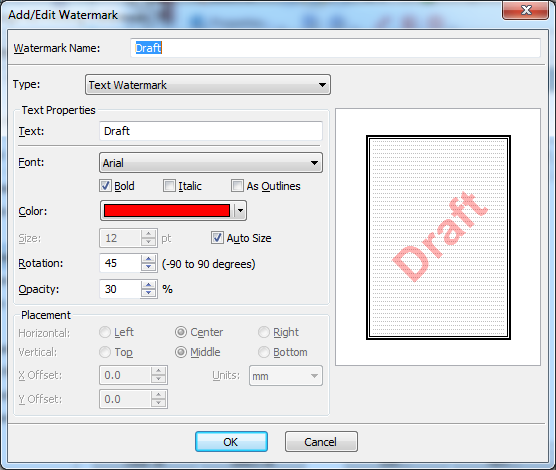 Images can also be used to create watermarks. Again there are options for size, positions, opacity rotation and more.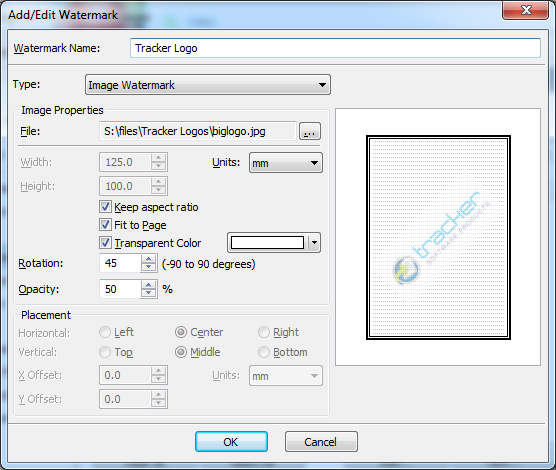 Click OK to save this new watermark in the list.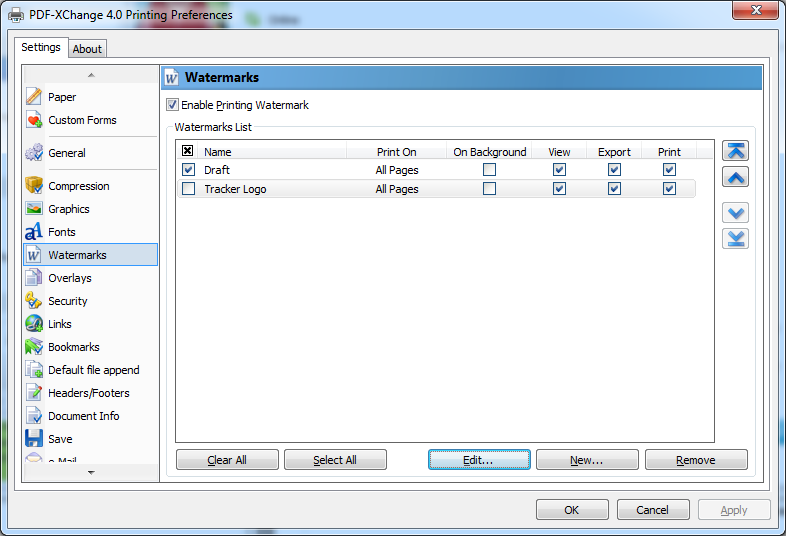 You can now select water marks by clicking the check box in the name column.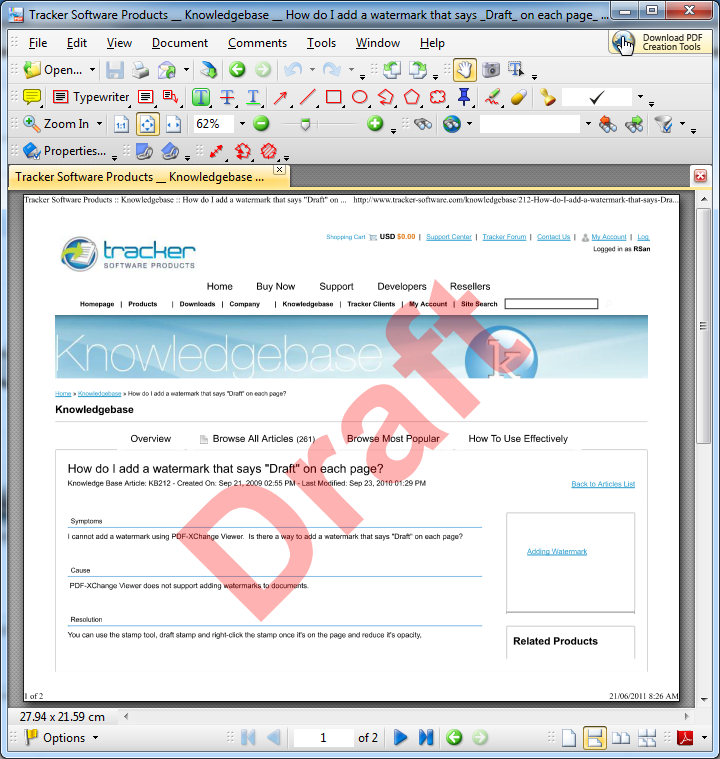 Note! One thing to note is that often, web browsers actually send a white background so if you do not see the watermark try putting it on the foreground by unchecking the box in the "On Background" column.