Back to Articles List
How do I Hide or Remove All Images in a Document
Symptoms
I have a large document in which I wish to hide or remove all the images.
Description
There is no built in function to automatically do this, however using the content pane to select all images allows you to perform operations on all the images in a document simultaneously.
Resolution
1. Open the desired document in the PDF-XChange Editor.
2. On the View tab, open the Panes dropdown, and select the Content pane:


3. Within the Content pane, click Options, then Select, and click Images: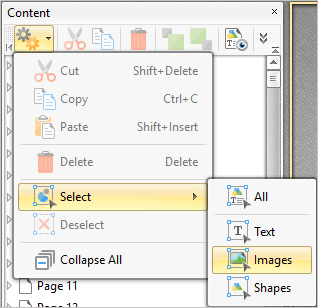 4. If the document has a large amount of pages, this may take a moment to process, once all the images are selected you can proceed with the changes you wish to perform.

5. If you wish to Hide the images that are now selected, navigate to the Format tab, and change the Opacity value to 0%.
*You will need to type this value in, as the dropdown can only go as low as 20%.

Should you wish to recover these images, simply repeat the process and raise the Opacity back to 100%.
6. If you wish to Delete the Images, simply press the Delete key (Del) on your keyboard now. Again, if there are a large amount of images this may take a moment:

If you accidentally deleted images you did not want to delete, and have not yet saved the document, you can press Undo (Ctrl+Z) to restore these images.
Once the document is saved after this operation, these images will be Permanently Deleted, and cannot be recovered without manually placing them back into the document.
If you have further questions about this process, please contact Support@tracker-software.com.